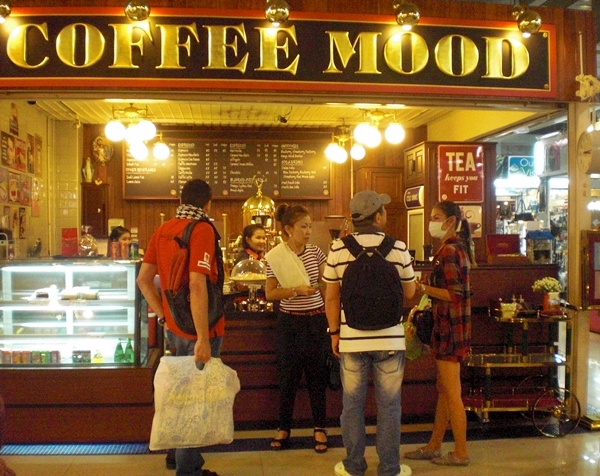 I really like Coffee Mood, a small cafe that's located in J.J. Mall in Bangkok, Thailand. I love the little shop front, which has been designed in an old-fashioned traditional Thai coffee shop kind of way, as well as all the brass fixtures they have everywhere. It always seems so cozy.
Coffee Mood has a shop front where you can buy your tea, coffee, and cakes and then a cafe area on the balcony of the mall right across from it where you can sit, relax and watch people walk by.
They also have an interesting selection of newspapers and magazines (mainly in Thai), if you just want to sit and flip through some pages while you're enjoying your coffee or waiting for a friend.
Weirdly, I've noticed Coffee Mood seems to be quite popular with farangs (westerners), which is definitely odd as it's in such an out of the way place.
My guess is that's because it's in a quieter area of the mall so it's easier to hold a conversation, the chairs are comfortable and the drinks are cheap. Average prices are 55-65 baht ($1.77 to $2.00) for a coffee drink or a tea, and their cakes are reasonable too.
You'll find Coffee Mood at J. J. Mall, right behind the massive Chatuchak Weekend Market in northern Bangkok. It's on the second floor.