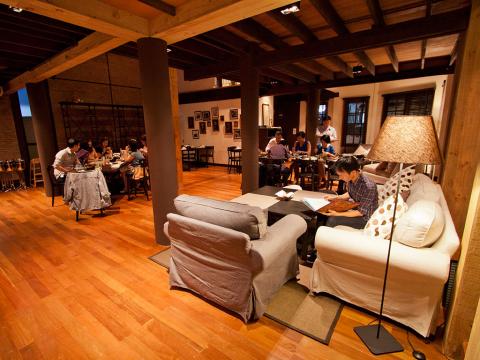 Crepes & Co is one of Bangkok's best restaurants for Greek, Moroccan and French food
Located on Langsuan Soi 1, in the heart of downtown Bangkok, Crepes & Co. is one of my favorite restaurants in Thailand. It's a new branch of the Crepes & Co group and replaces the original restaurant on Sukhumvit Soi 12. It closed down a couple of years ago.
Crepes & Co. restaurants have been open since 1996 and were the brainchild of two Swiss-Bulgarian brothers. When they opened the original restaurant, there was nowhere in Bangkok where you could get authentic French crepes. From a small introductory menu of crepes, they eventually added amazing Spanish, Moroccan and Greek food. The menu today is huge with more than 350 choices.
The most popular dishes however are still the crepes. They are huge, delicious and you can order them with many different savory or sweet fillings, so there's something to suit everyone. They also have a good vegetarian selection and an excellent children's menu.
While I adored the original Sukhumvit Soi 12 location, the Langsuan branch won't disappoint, as it's beautifully designed and a gorgeous restaurant to be in.
What to eat at Crepes & Co
On my last visit, we were planning on staying a while, so we started out with the home made Sangria from the bar. Made with red wine and yummy fruit, it's a perfect beginning to a nice lazy lunch.
My friends and I then shared a Greek-style mezze platter, which came with an assortment of Greek dips, pita bread and lots of little Greek 'nibbles' to eat. Lovely.
For my entrée, I ordered a Lasagna Crepe that was cooked to perfection. The crepe was slightly crispy on the edges and soft on the inside, with a perfect lasagna filling. Lasagna of any kind in Thailand is often not the same as a Western lasagna, so it was fabulous to be able to eat not only an authentic lasagna but also to have it stuffed into a wonderful crepe. I also ordered a Caesar Salad. Very good, but the dressing was not quite the traditional Caesar salad dressing I'm used to in the US and Europe. Still nice though.
My friend opted for the Moussaka, the traditional Greek dish made with eggplant and lamb. I had a fork full and it was lovely. The dish was perfectly seasoned and the lamb was moist and tasty. She was very happy with her choice; she must have been as she finished the lot in record time!
After the entrees, we were both a little full so, rather than having a dessert each, we decided to share a crepes framboise which was filled with ice cream and topped with a delicious raspberry sauce.
We chased everything down with a nice cup of coffee and left there pleasantly stuffed and looking forward to the next time we venture downtown to eat.
The staff at Crepes & Co.
Other than the food, one of the best things about the restaurant I think is the staff. They are all friendly and polite and take very good care of you without being intrusive. Our water glasses were filled continuously, dirty plates were removed quickly, and we left there after receiving a nice smile of farewell from the Maitre D', which made us want to return even sooner.
As far as logistics are concerned, many restaurants in Bangkok are frustrating to get to because of the vastness of the city. Crepes & Co is extremely easy to head to as it is centrally located and also close to the sky train.
Crepes & Co. is open every day from 9am until 11pm. It's a fabulous place for lunch or dinner, and is also actually known throughout Bangkok as one of the best brunch places in town. I've also heard their breakfasts are wonderful, but I haven't been able to check that out yet. It's definitely on my list of things to do though.
Price-wise per person, expect to spend between $15 and $40 per person depending on your selection, number of dishes ordered, wine or no wine, etc. It's a little pricey for Bangkok, but well worth the money. Special treat or not.
One recommendation I would make is to make sure you call ahead and reserve a table on the weekends as the restaurant is extremely popular. On holidays, both Thai and Western, it would probably be advisable to call ahead for a reservation a few days before, as it does book up quite quickly.
It's also a relaxing place to eat and people tend to eat slowly, so if you have to wait for a table you could have a long wait.
All in all, a lovely place for a great meal, with a nice ambience and pleasant staff. Highly recommended for a relaxing lunch and also for any special occasion.
For more information and to see some gorgeous photos of the restaurant and some of their dishes, check out the Crepes & Co website, where you'll also find information about their other locations.