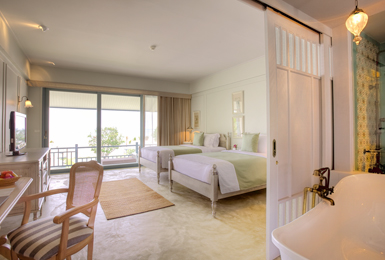 Hua Hin is my favorite Thailand beach resort and, as it's only three hours from Bangkok, is a place I go every time I need to relax. On my last trip to Hua Hin, a friend and I decided to splurge a little and stay at the Devasom Hua Hin Resort, a luxury beachside resort we'd heard was simply stunning. At just under $100 a night for a Seaside Deluxe room, not only did we feel we got our money's worth, the hotel itself surpassed our every expectation.
Where is the Devasom Hua Hin Resort? – In a more secluded part of Hua Hin in between Hua Hin and Cha-Am, on the beach and just a few minutes stroll down from the Sheraton, what we loved about the Devasom was how quiet it was at night. Hua Hin, if you stay right on one of the main tourist streets, can get noisy with all the bars, cafes and restaurants. At the Devasom though, although just a short tuk-tuk ride to town, back at the hotel it was peace personified.
Although some might think it was too far from town (less than ten minutes in a tuk-tuk) we were thrilled with the atmosphere and location. It couldn't have been in a better spot – so peaceful and calm. There was even a free shuttle from the hotel two or three times a day, which made getting into town even easier, although we had no complaints.
The Rooms at the Devasom Hua Hin – The guest rooms at the Devasom, if ours was anything to go by, are simply superb. We booked the Seaside Deluxe room and, when we arrived, were thrilled to see how large it was (around 50 square meters). It's also decorated in contemporary Thai style. Very modern, clean lines and so stylish.
The room had two twin beds, a large en suite bathroom with a rain shower, a flat screen TV, DVD player, iPod, free mini bar, coffee maker, and free Wi-Fi. Our room overlooked the ocean and was just perfect to wake up to every morning. Our only minor annoyance was the bathroom was sort of part of the room, with a partition you pull across to close yourself in. If you're a couple, I'm sure that's no big deal. For two friends, we would have preferred just a little sturdier of a bathroom separation with a tad more privacy.
The Facilities – Upon arrival, we were surprised to discover it's actually quite a small hotel. But, for a small hotel, it still managed to provide exactly what we needed. Free Wi-Fi internet, a dry cleaning service, a gorgeous infinity swimming pool and Jacuzzi, the aforementioned free shuttle into town and a very pretty cafe and bar.
If you decide to stay at the Devasom Hua Hin Resort, don't miss eating at their lovely restaurant too. Just beautifully designed in that gorgeous Thai-beach style, it's beachy-white tones and low lighting was so nice – we both were wishing we'd come with someone a little more on the romantic side – and the Thai food we ate there was delicious.
Breakfast too every morning was lovely, with lots of fresh fruit, pastries and Thai choices, but someone told us the chef at the Devasom was quite well known around town, so we weren't surprised by how good the quality of the food was.
Room Rates – The Devasom Hua Hin Resort is a luxury resort and normally, room rates begin at 3,500 baht ($115) on up out of season. We booked on an Asian booking site we often use, so managed to get a room rate of $98 a night that, particularly split between two of us, was an absolute steal.
The Devasom Hua Hin is an absolutely gorgeous independent hotel. The staff is lovely, the service impeccable and the guest rooms some of the prettiest I've ever stayed in. Sitting at night on our private balcony enjoying a glass of wine, with a sea breeze, the sound of music in the background and the sound of the insects and, honestly, I could have stayed there for months.
The Devasom Hua Hin Resort is just off Phetsakem Road at KM221, just a ten minute drive into Hua Hin.
Check out Hotels.com for some excellent inexpensive rates for the Devasom Hua Hin Resort.