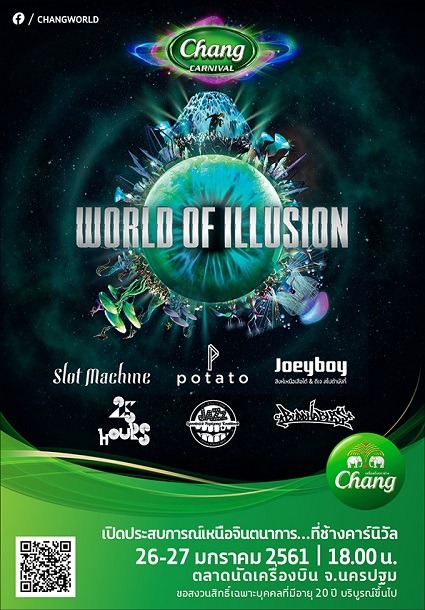 Anyone who is a fan of rock music or hip-hop, or both, should not miss the Chang Carnival 2018 "World of Illusion", to be held at Asiatique, The Riverfront in Bangkok, Thailand on February 16th and 17th.
The massive two-day music festival will feature live performances from popular Thai rock bands Slot Machine, Potato and Modern Dog, and hip-hop from Buddha Bless and Joey Boy on the 16th, followed by music and a lights show from a slew of international DJs on the 17th February.
The "World of Illusion" concert kicks off both days at 5pm, and will run until midnight. You must be at least 20 years old to enter, and you will need your ID card to be allowed in.
Check out the brief promo video below for a quick snippet of what you might experience at the Chang Carnival 2018 "World of Illusion".
You can grab tickets at Ticket Melon.
Tickets are free, but going fast and limited to just 500 per day, so hurry.