Why you should eat at Pier 21 at Terminal 21 – Bangkok's best food court
As a fan of food courts in Bangkok, Thailand, I've always enjoyed eating at them but, today, I discovered my dream food court – the Bangkok food court I will now choose above all others. Pier 21 at Terminal 21, Bangkok's newest shopping mall.
It's only been open for a few weeks, there's a huge variety of Thai dishes to eat, and it's dirt, dirt cheap. So cheap in fact, at least 50% of the food they serve is only 30 baht a dish – yes, that's $1 to you.
Location of Pier 21 – The massive Pier 21 food court is located on one of the mall's food floors. You'll find it right at the end of the fifth floor (the one with the San Francisco bridge) and you will know you're there by the huge number of Thai office workers standing in line to buy coupons so they can get food, as well as the incredibly delicious food smells and the large choice of food stalls.
Don't be fooled though, even though it looks pretty and there's an amazing view from the benches by the window, it is still a food court and it is cheap.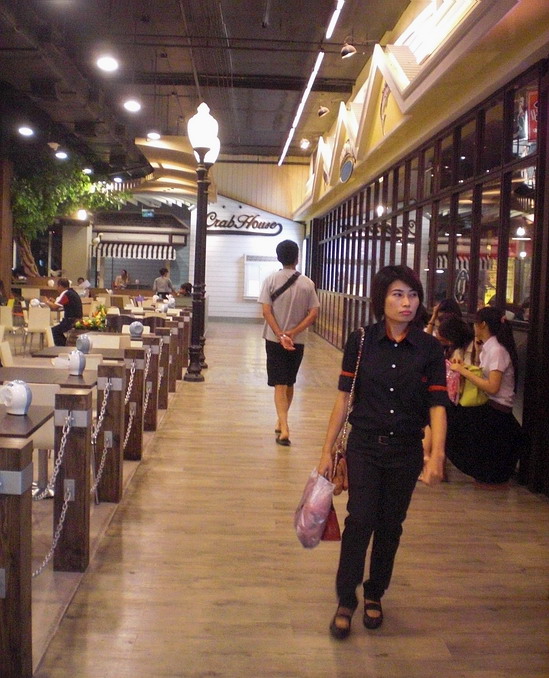 Food at Pier 21 – The whole concept of this food court is an authentic Thai food court aimed at Thai office workers and not at tourists or expats. And that's why it's so wonderful.
They serve everything from rice dishes, curries, noodles, Chinese dim sum, vegetarian dishes and more. With around 40 food stalls, all offering at least 10-15 dishes, you could eat there every day for a year and not try everything.
I ate at Pier 21 today with a Thai-American friend and, wandering around to check out our choices before committing to buying food coupons, we couldn't believe the cheap prices.
Dishes start as low as 25 baht (83 cents) and the average is only 30-40 baht ($1-$1.33). By the time we'd finished our walk around the stalls and tried to choose something to order, we realized we might be there a while. For me, sometimes picky with my food, I'm not lying when I say there was not a single dish at any food stall I didn't want to try.
I finally plumped on a spicy yellow pork curry and rice that came with slices of Chinese sausage. Priced at 40 baht ($1.33), the portion was large, the presentation nice, and the taste absolutely superb. I particularly enjoyed the sausage, as it was chewy and very spicy.
My friend had a mixture of different Chinese dim sums, steamed vegetable dumplings, and fried bamboo shoot cakes. For the six pieces she chose, which were large, her total layout was only 30 baht ($1) and she only just managed to finish them she was so full.
We finished off our meal with drinks. You can get fresh fruit shakes in many flavors for only 20 baht (66 cents) and iced coffees and teas for 25 baht (75 cents). I ordered a plum juice, my favorite drink in Thailand, and was thrilled to see the 'large' was truly large and all for 25 baht.
Pier 21 also has several stalls selling Thai desserts. They start at only 15 baht (50 cents) so are even cheaper than the main meals.
The best thing about Pier 21 food court, other than the amazing food and cheap prices that is, is that it's targeted at Thais. So you get authentic Thai food, lots of choices, it's a beautifully designed and quite elegant food hall, and it's fun to eat surrounded by Thais with barely a foreigner in sight.
Don't miss checking out the view from the massive glass windows too. You get a real birds-eye view of the city.