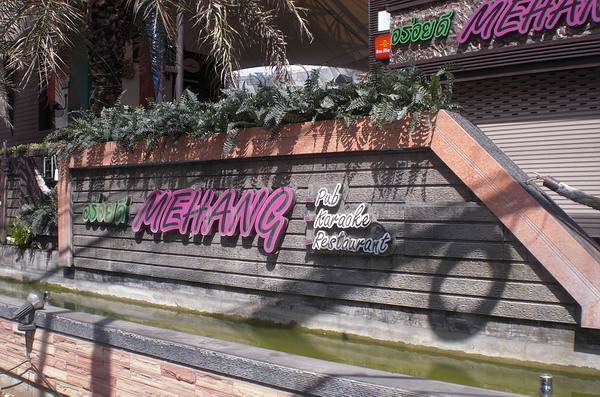 A few months ago, after a night of shopping, an American friend suggested we go for dinner and a beer. As we'd shopped close to the Major Ratchayothin mall near my apartment, we ended up at Mehang, a pub-restaurant in the Pahonyothin area of Bangkok. To say the evening we had at Mehang was one of the most fun I'd had in a long time, doesn't even do justice to this place. it really is cool, laidback and a great place to enjoy a casual dinner or a few beers.
Location of Mehang – Mehang is a large rustic looking pub-restaurant, on the corner of Pahonyothin Road and Ratchadapisek. You can't miss it. Just look for all the wooden decks, the roped off gardens, and a large metal sculpture of a cowboy (see photo). While, at first glance, you could be mistaken for thinking this place is an American-style restaurant, nothing could be further from the truth. It's absolute Thai, through and through.
Atmosphere at Mehang – One of the coolest bars in the Major Ratchayothin area, Mehang is even bigger and more fun than it looks from outside.
On arrival, you have a choice of sitting inside, in one of several small air-conditioned areas of the restaurant, or outside where all the action is. As 'outside' consists of rustic wooden decks, on various levels, surrounded by potted plants and a garden and lit by dark, romantic lighting, and needless to say, almost everyone congregates here.
Each deck is packed with wooden tables and benches, stacked trays on wheels next to each table (that's where your beer or beer tower and bucket of ice sits), and many, many people.
The best place to sit is on the top deck. It overlooks the Major Ratchayothin Night Market, adding to the atmosphere, and it's also a little ways away from the live band, so not as loud as the others.
Mehang also has karaoke rooms, if you're into singing, which apparently many of their customers are.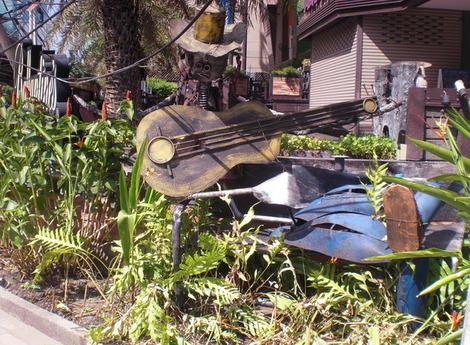 Food and Drink at Mehang – While, yes, Mehang is a restaurant, the food is not why everyone goes here although it is delicious. The place is popular, as there's free live music almost every night (Thai pop, country and other bands in between), inexpensive beer (the beer towers are cheap and a great thirst-quencher on a hot evening), and a fun atmosphere.
The menu at Mehang isn't overly large, but what they do have is excellent. Everything they serve is traditional Thai, with an emphasis on fresh seafood, and down-home cooking. Try the mussels cooked in a clay pot, which, are so succulent and tasty and I think are the best things on the menu.
The fried fish is also perfectly cooked, and the steamed crab, or one of the dishes with fresh prawns are must-eats. Since my first visit, I've eaten at Mehang three times, and each time the meal has been wonderful.
Price-wise, Mehang is an inexpensive night out. For a couple of tasty Thai dishes, and a beer tower of a Thai beer like Chang or Singha, a couple of people can get away with a fun night out for between 800-1000 baht ($26-$33), and that includes some darn good live entertainment.