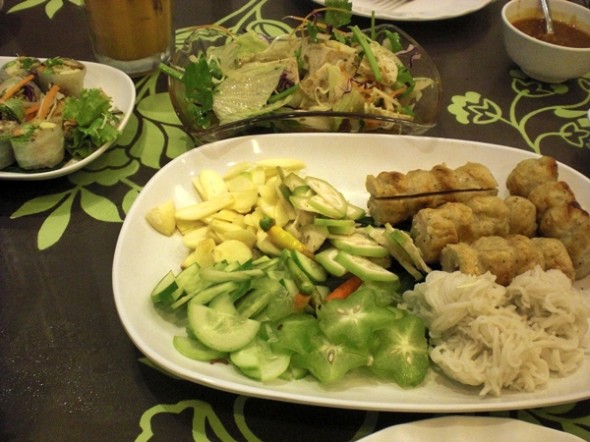 I went with a Thai friend to the Bang Bon area of Bangkok last week to visit her parents who were in town from the US.  Bang Bon, if you don't know, is one of Bangkok's many districts (50 I believe?) but it's one of those districts that's way out there — takes a long time to get to, traffic is horrendous, it's across the Chao Praya River from me and, oh yeah, there's not a whole heckuva lot there But, go we did and surprisingly found a very nice Vietnamese restaurant called 'Ham Huong'.
Ham Huong is one of a number of good Vietnamese restaurants in Bangkok, but this one only has Thai signage so, if you're looking for it, in Thai the restaurant name looks like this 'แฮมเฮือง'. It's quite a large restaurant inside, and also has a pretty patio area out front, although the rest of the neighborhood is nothing nice to look at.
The Vietnamese food was excellent (and very healthy), prices were cheap at either 50 or 80 baht per dish, with a few specialities at 160 baht, portions were large and the staff was lovely. The menu was mainly Vietnamese with a mix of a few Thai dishes, and most of the Vietnamese food I'm familiar with was available.
All in all, if you're in the Bang Bon area of Bangkok and looking for a good restaurant to eat it, you won't go wrong with Ham Huong (แฮมเฮือง).
You'll find it on Thannon Ekkachai in Bang Bon, but I'm sorry I can't give you more idea than that. I wasn't driving, so I'm always at a loss when that happens. The Google map below, however, pinpoints the the location of Ham Huong almost perfectly, and yes, it is in English.