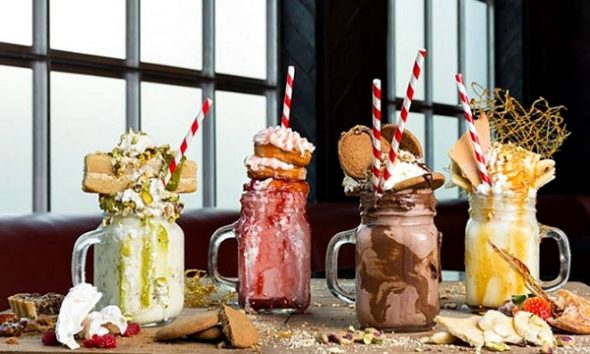 If you have spent any time on social media recently, and seen photos posted by Thais, you will probably have noticed a lot of them seem to be drinking (eating?) 'Freak Shakes'.
Freak shakes are the latest Thai milk shake craze, and you will recognize them if you have seen ridiculously high milk shakes, that are so gravity defying you wonder how they do not immediately fall down.
Freak shakes do not immediately collapse the minute they are made due to several secrets freak shake creators adhere to. These often come from Australia, where the shake was originated, or America where it was adopted almost as quickly.
A video recently posted on the Channel News Asia YouTube channel shows you just how to make a freak shake (called 'crazy shakes' in Singapore).
The secret, of course, is a solid coating of something sweet and sticky around the glass, a thick milk shake, a tower of whipped creme, and then speed as you add all the sweet treats on to the top of the tower you wish to add.
Although, once you try to drink/eat a freak shake, you will notice it quickly collapses, leaving you with a bit of a mess on your plate and even on your table.
Of course too, I would hope anyone making freak shakes in Bangkok is using gloves for this crazily involved preparation as, personally, I wouldn't want to drink any freak shake that has had some of its contents rolled around in someone's hand.
But, hey, that's just me.
If you are interested in learning how to make a freak shake, watch the Channel News Asia video below. It is quite easy and, while definitely not healthy, one now and again isn't going to kill you.
If not, you can find freak shakes in Bangkok at ONCE Cafe (Siam Square, Soi 2), Sweetery (Thonglor, Soi 11) and the extremely popular Australian chain The Coffee Club (Shama Lakeview Hotel Sukhumvit Soi 16).