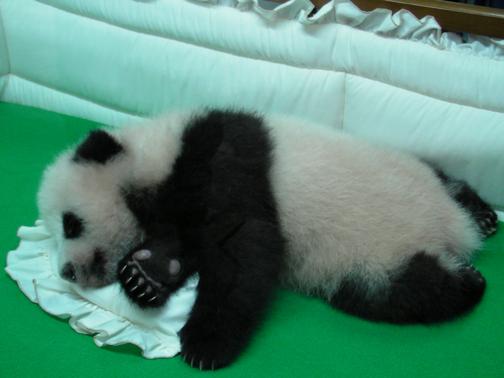 In May 2009, Lin Bing, a female Giant Panda cub was born to Chuang Chuang and his mate, Lin Hui in Chiang Mai, Thailand. The only baby Giant Panda in Asia outside China, Lin Bing has been the most famous tourist attraction in Chiang Mai since her birth. Thais come from all over the country to visit Lin Bing and foreigners make the trip too. But, if you want to see Lin Bing, you must do so before May 2013.
Under an agreement with China, any Giant Panda cub born outside China, has to return to its homeland after two years. Thailand managed to get this extended to four years so Lin Bing can go to China when his parents are returned in 2013 but, with just over two years left, the time to see south east Asia's only baby panda is getting shorter. If you want to see Lin Bing, Chiang Mai's famous Giant Panda cub, here's what you need to know.
How to Get from Bangkok to Chiang Mai to See the Baby Panda – Chiang Mia is in northern Thailand around a ten hour drive from Bangkok. Flying is the faster option at only just over an hour and with around 30 flights going into Chiang Mai from Bangkok every day, you have many options.
Check Air Asia, Bangkok Air or Thai Airways for available flights. You can also take a bus from Mo Chit northern bus station in Bangkok, with most buses taking around 12 hours and traveling overnight.
How to Get to Chiang Mai Zoo – Lin Bing, the Giant Panda cub, is currently at Chiang Mai Zoo, which is just on the outskirts of the city of Chiang Mai on Huay Kaew Road, at the foothills of Doi Suthep mountain. There are four main ways to get to Chiang Mai Zoo, the first and most expensive being a taxi.
Tuk-tuks will also take you to Chiang Mai Zoo but they tend to be more expensive in Chiang Mai than other Thai cities, so make sure you agree on a price before you set out.
The best way by far is to take a songtaew, the red open-sided trucks that you can wave down anywhere in Chiang Mai. Just try to find one that's going to either the zoo or Doi Suthep, and you'll get there a lot quicker. The final option is the number 3 bus, which goes right by the Chiang Mai Zoo gates.
How to See the Giant Panda Cub – The admission to Chiang Mai Zoo is 100 baht (around $3). The zoo is small but the animals are generally well taken care of, although their cages are small and the zoo is very outdated.
Once you arrive at the zoo, make sure you pay the extra 100 baht per person to see the Giant Pandas and 50 baht per child, if you have any with you. Of course, Thais pay a lot less, but there is a double-pricing system alive and well in Thailand unfortunately. Also, make sure you ask if the panda cub will be displayed that day. It has currently been allowed to be displayed to the public only a few times since it was born in May, and is likely to only be on display periodically until it gets a little older.
Wear a Mask – Even though you are several hundred feet away from Lin Bing, the zoo is still giving out face masks and everyone who sees the baby panda is required to wear one. Not surprising really, with H1N1 and any number of other potentially fatal illnesses in Thailand, the zoo is taking no chances that the only baby panda in south east Asia doesn't survive.