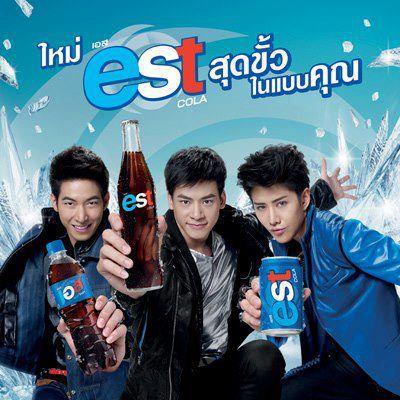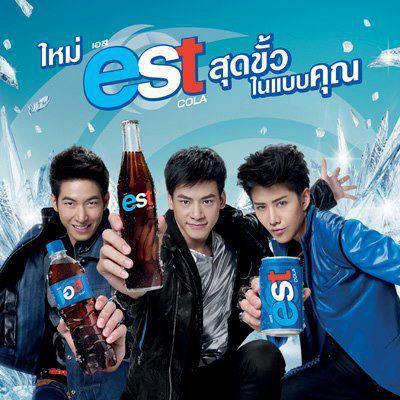 I've been on holiday in Spain for a month, so missed all the hoopla about Pepsi-Cola versus Serm Suk and Serm Suk's new Thai cola, est. But, I had lunch with a Thai friend on Friday and she told me the story of how the Thai company, Serm Suk, had been bottling Pepsi cola for years but, at the last contract renegotiation, they decided they'd had enough of paying Pepsi 60 percent of the profits for the syrup while they were doing all the work.
So, as Serm Suk already had their own factories, trucks, distribution lines and contacts in Thailand, they decided "to hell with Pepsico" and created their own Thai brand cola instead.
Bye Bye Pepsi in Thailand and welcome to……..est.
Now, normally I'm not a huge fan of Thai brand bottled or canned drinks. Many of them tend to be overly sweet for my taste, so I rarely buy them.
But….when there's such a monumental event like a new Thai cola, and a cola beverage that the company making it says they'll use to become the leader of Thailand's Bt30-billion cola segment within three years, come on, I had to buy a bottle.
So at my local Tesco this morning, I picked up a bottle of est cola. Got it home, put it in the freezer to make it icy cold and then, with extreme interest, poured myself a tall glass of now cold est cola and took a big drink.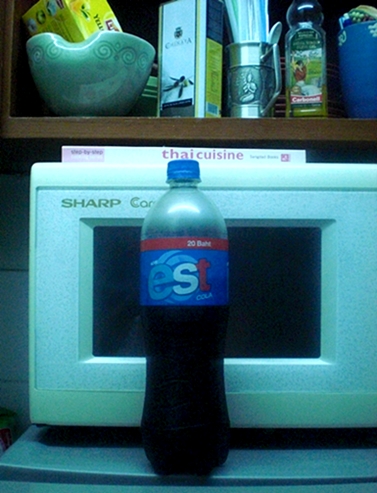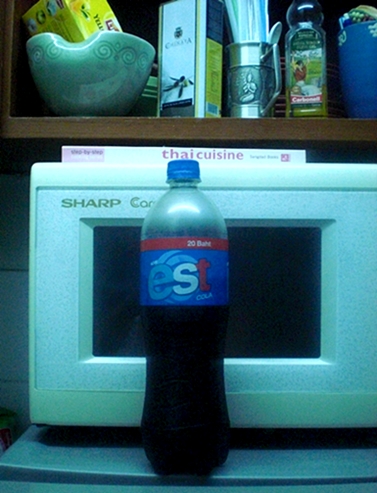 Bottle of est cola – my new favorite Thai beverage.
And what a taste. Far less sweet than Pepsi, which I have never liked, and similar to Coke but actually much much better. Est is smooth, it's not harsh on your throat like Coke and it's incredibly thirst-quenching. To me, it tastes as light as a diet cola but without the nasty after-taste. In fact, I love est cola.
So thank you Serm Suk for creating a cola beverage I can not only drink but will actually enjoy. I don't drink a lot of cola so I'm not going to give your sales an enormous boost but you can pretty much guarantee from now on, if I feel like drinking a can, bottle or glass of cola, my first choice will be est. It's lovely.
As for you, if you haven't tried est cola yet, you should. It's available at every supermarket (remember, Serm Suk already had the distribution channels in place so they just pulled out Pepsi and inserted est), every 7-11, food courts, cafes and some restaurants.
Plus, as Serm Suk say they're going to be spending 1.5 billion baht on advertising the launch of est, you can guarantee it will be showing up everywhere else soon.