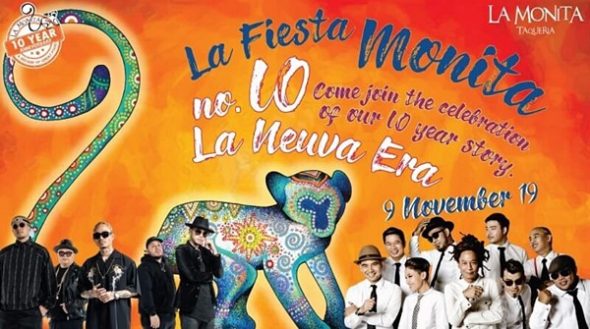 One of the best Mexican restaurants in Bangkok — La Monita Taqueria in Ploenchit — will be celebrating its 10th anniversary on November 9th with a huge block party.
Various stalls at the party will not only be serving the best Mexican food in Bangkok, there will also be tasty food from Billy's Smokehouse, Osito Tapas and Thai Niyom.
And, if this wasn't enough, you can enjoy live music from Thai superstars hip hop band Thaitanium and reggae band T-Bone.
The price for the entire evening (6pm to 10pm plus concerts) is amazing too.
Just 1,500 baht for non-La Monita members, as well as discounted prices for La Monita members.
This includes all the alcohol you can drink from 7pm to 9pm, and all the food you can eat from 6pm to 10pm. Wow!!
All of this, though, for a limit of just 800 people — so grab your tickets fast before they sell out.
You will find La Monita Taqueria at 888/25-26 Mahatun Plaza, Phloen Chit Road in Bangkok.
You can call them for more info about the La Monita Taqueria block party, or just eating at the restaurant in general, at 02-650-9581, or check the restaurants's website.