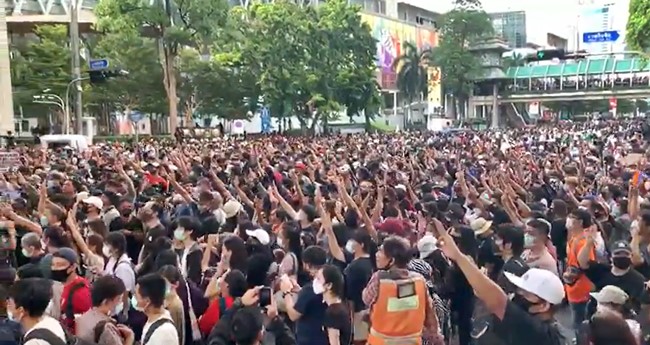 Ratchaprasong protest ignores State of Emergency, protesters continue to demonstrate in support of democracy
As Thai pro-democracy protesters continue to prove they will not back down to prime minister Prayut Chan-o-cha's threats, a large protest took place at Ratchaprasong intersection late this afternoon.
Thousands of protesters congregated in the middle of the intersection beginning at 4pm, causing traffic to come to a stand still as the intersection was blocked.
Protesters also faced down riot police, pushing them to the sidelines, while shouting for the removal of Prayut Chan-o-cha as Thailand's prime minister.
The latest protest against the current Thai government, a government installed after a military coup in 2014, was organized in direct opposition to Prayut's State of Emergency decree declared at 4am this morning.
The decree banned all gatherings of more than five people, along with banning news media and people on social media from making comments the government says could "create misunderstanding that will affect national security or peace and order".
A statement that is similar to those that have been heard from authoritarian and dictatorial governments around the world in the past.
Today, CNN, the BBC and other international news stations were also blocked in Thailand.
Again, actions that only occur in countries run by authoritarian and dictatorial governments, and actions that are ultimately ineffectual unless Internet access to all Thais is also cut.
Pro-democracy protesters, however, ignored the ban on gatherings and on making statements on social media, and this morning were already planning this afternoon's protest
Even after several prominent protest leaders were arrested by Thai police earlier in the day.
This evening, protesters told news media they would not be occupying Ratchaprasong intersection overnight, however, as they planned to disburse and go home.
Protesters then plan on organizing flash mob protests around Bangkok in coming days and weeks, as they adapt to the government's attempts to stop them.
Protests that are likely to continue and, if the Thai government continues to try to suppress them, may become even larger.
Meanwhile, in a series of tweets, prominent Hong Kong pro-democracy protester Joshua Wong tweeted about the Ratchaprasong protest in Bangkok, giving his full support to the Thai protesters, and saying:
5. Despite crackdowns, our brave Thai friends now defy the new law & flock to streets to protest against tyrannical rules. On their fight for #DemocracyforThai, we should not let them fight alone. #LongLivethePeople!pic.twitter.com/HWchFYW0Vc#15ตุลาไปราชประสงค์ #MilkTeaAlliance

— Joshua Wong 黃之鋒 😷 (@joshuawongcf) October 15, 2020