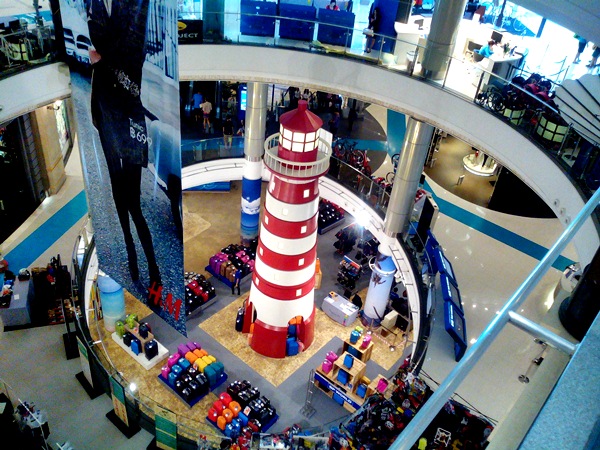 As any long-time readers will have noticed by now, I don't always do very well with the 'photo of the day', as it ends up being more like the 'photo of the month' or longer. But, I have taken a few photographs around Bangkok recently that I'd like to show you, including this one that I love — the red and white lighthouse at Terminal 21 shopping mall in Bangkok, which I photographed from the third floor looking down on it.
The lighthouse is on the basement floor of the mall, the Caribbean floor, and reaches up almost to the second floor. I always love taking photographs of it as it adds such a nice touch to Terminal 21's design, a mall by the way that I think is the best designed mall in Thailand.
If you haven't been to Terminal 21 yet, you should as you're missing a treat. Not only is every floor design based on a particular city or country, but Terminal 21 has many fabulous boutiques to shop in and one of the best, and cheapest, food courts in Bangkok.
You'll find Terminal 21 right next to the Asok BTS sky train station and the Sukhumvit MRT station. Just remember to take your camera, as the photo opportunities are wonderful.
Oh and, if you're wondering, all the brightly colored squares around the lighthouse are colorful suitcases in a suitcase and bag sale that was being held that day. Nice, eh?