Mr. Bean coffee shop is an oasis of calm and cozy in the midst of the hectic craziness of downtown Bangkok, Thailand. Tucked away at the back of Mahboonkrong (MBK) shopping mall in the Siam area of Bangkok and overlooking Phayathai Road, Mr. Bean serves delicious coffee and tea drinks, great sandwiches and some of the most scrumptious cakes and pastries in the city.
Not surprisingly, it is also extremely popular with both Thais and tourists, who appear at Mr. Bean's big glass doors desperate for a reprieve from the craziness of shopping at MBK.
Mr. Bean Staff – I have been getting coffee, cakes and lunch at Mr. Bean since I moved to Thailand almost seven years ago. A couple of the staff members have been there almost that long so it is nice when I arrive and always get greeted with a familiar smile and asked how I am.
Unlike some other Bangkok coffee shops, the staff at Mr. Bean are efficient. They take your order immediately, it arrives at your table quickly and, in all the time I have been going there, I've never been served something I didn't order. They are lovely and friendly too.
Mr. Bean Drinks – I am a huge fan of any type of coffee drink – lattes, iced coffee, mochas, vanilla lattes – you name it, I'll drink it. I've tried many of Mr. Bean's coffee drinks as well as several of the tea ones too. Their hot lattes are always served piping hot so, unlike other cafes I frequent, I never have to send them back to be heated up.
Their drinks are also large compared to similar cafes in Bangkok. The iced coffee is excellent (smooth, not bitter) and I highly recommend the iced lattes too. As for teas, they have several varieties of tea you can order hot or iced, as well as Thai iced tea – the heavy sweet tea served with condensed and evaporated milk. Mr. Bean also serves a few varieties of fruit juice smoothie that are delicious.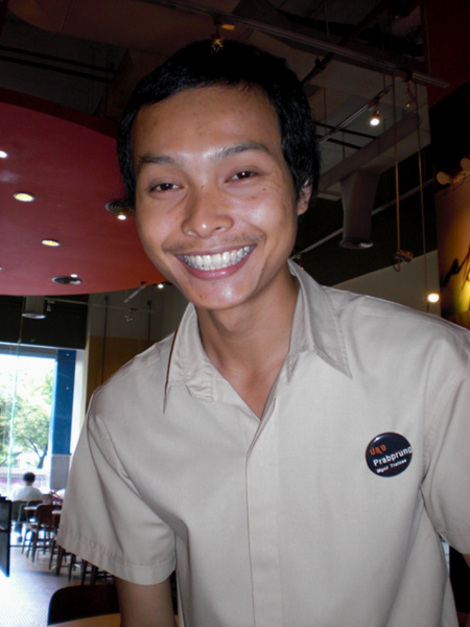 Sandwiches and Cakes – Mr. Bean has a varied menu of sandwiches, croissants, pastries and cakes. I like their ham sandwiches, which I order toasted, followed by a cake. The blueberry cheesecake is superb. Rich, creamy
and very cheesy. I also highly recommend one of their several varieties of chocolate-style cakes. They're all heavy, decadent and stick to the roof of your mouth chocolatey.
I have even been known to eat two.
Mr. Bean Prices – Prices at the cafe are excellent. Hot and iced lattes, coffee, Americanos, cappuccinos, tea and fruit juice drinks are at least 25-35 baht (75 cents to $1) cheaper than Starbucks and the sizes are larger too. Sandwiches begin at 70 baht ($2.10) and go up to 100 baht ($3) and cakes and cookies start out at 45-50 baht ($1.35 – 1.50) so, as you can see, you can eat and drink here fairly cheaply.
Location of Mr. Bean – Mr. Bean is located in Mahboonkrong (MBK) Mall on the ground floor, at the absolute back of the mall in the left hand corner. It has large floor to ceiling glass windows all the way around, is enormous inside and also has a wooden patio area overlooking Phayathai Road if you like sitting outside.
The first time you are looking for it, it may seem difficult to find, but it is obviously not that bad as it is always busy.
If you don't have a mobile device or a laptop with you, Mr. Bean also has a bank of ten or so computers with fast internet that are cheap to use for an hour. It is a great way to spend part of your afternoon in Bangkok. Drinking a delicious Mr. Bean latte, enjoying a strawberry cheesecake and surfing the net.