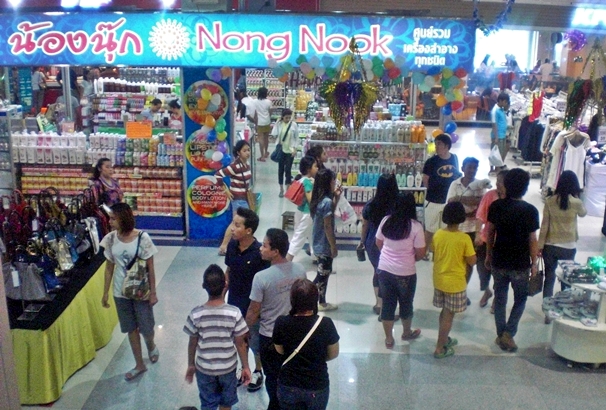 I don't buy a lot of toiletries and cosmetics in Bangkok, Thailand but when I do I often try Thai brands. Lately, I've been buying most of my Thai brand toiletries and cosmetics in Bangkok at a small shop at J.J. Mall — the mall behind the famous Chatuchak Weekend Market. The shop is called 'Nong Nook' and it's nothing more than a small, open-sided shop that's packed with Thai brand toiletries and cosmetics, as well as other inexpensive brands from Korea and Japan.
Prices at Nong Nook are incredibly cheap as well, with bars of hand-made specialty soap as cheap as 15 baht (48 cents) and bottles of Thai brand shampoos, conditioners and hand lotion for only 35 baht ($1.15).
Today, I bought 3 bars of handmade pomegranate whitening soap for only 15 baht each (I don't care about the whitening, but the perfume of it is lovely and it lathers up really well), a bottle of herbal conditioner for 39 baht ($1.28) and a small Korean body spray (which smells absolutely gorgeous) for 29 baht (96 cents). I've already tried all of them and, boy, do I smell nice.
Nong Nook also sells just about every type of toiletry item or cosmetic that you could want — from hair colors to deep conditioners, eye shadows, mascara, blush, body lotion, hand lotion, lipsticks, perfumes and body sprays and a whole slew of other things.
If you're looking for a great place to buy a few inexpensive Thai brand products for yourself, or to look for cheap toiletries and cosmetics for gifts, you can't go wrong with Nong Nook.
They're also open every day from when JJ Mall opens (around 10am) to when it closes (9:30pm). Just be aware, on the weekends JJ Mall gets incredibly crowded so I'd recommend shopping during the week if you can.
You'll find Nong Nook at the top of the steps from the main front entrance of JJ Mall, towards the right hand side.