I have been wanting to try Nuan Prang Noodle Bar and Grill. It's one of the trendy restaurants at Suzuki Avenue (the fashionable mini mall behind Major Ratchayothin) in Bangkok, Thailand, which I had always presumed was expensive.
On Thursday night, I finally got there with the help of a Thai friend, and I am so glad I did
That is because Nuan Prang Noodle Bar and Grill is not only a superb Thai-fusion restaurant, it is also a gorgeous place to eat.
Stunningly designed in modern Thai-style, all dark wood and warm orange lights, inside there are small cozy tables and a slate floor.
Outside, you can sit on long wooden benches and watch the fashionable types walk by, while enjoying some of the best Thai-fusion food in the area.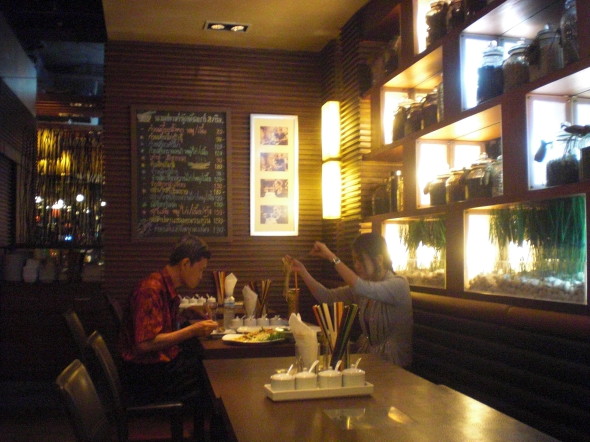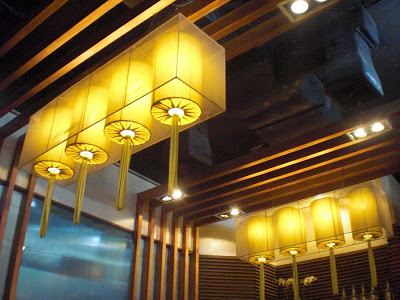 We started off with an order of pork balls, which arrived in typical Thai street food style on long cocktail sticks. The spicy sweet and sour sauce was delicious, and the pork balls themselves were fresh and tasty. We then shared an order of Pad Thai with shrimp (the shrimp were enormous), and an order of Spaghetti with Spicy Chiang Mai Sausage.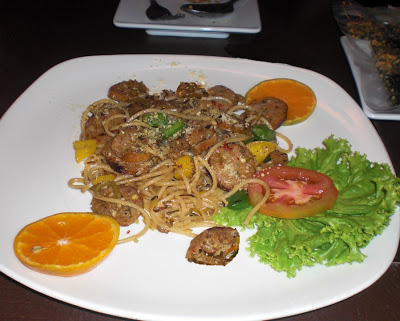 Add to that two of the most delicious Thai iced teas ever, served in long, pretty frosted glasses, and Nuan Prang Noodle Bar and Grill is about to become my favorite Bangkok restaurant.
You will find Nuan Prang Noodle Bar and Grill at Suzuki Avenue (also called Major Avenue) behind Major Ratchayothin, on Ratchadapisek Road in northern Bangkok.