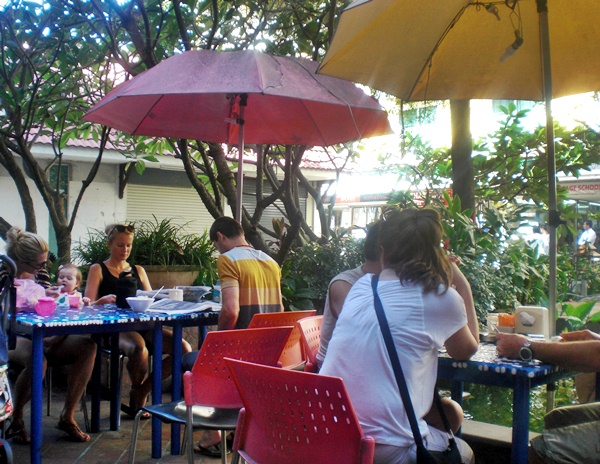 As a Brit living in Bangkok, Thailand, I occasionally crave British food. That's when I take the boat down to Khao San Road and visit Oh My Cod, the British restaurant that's known by most Brits in Bangkok as the best British restaurant in Bangkok.
The Food – If you love British food, you will love eating at Oh My Cod. Their menu is enormous and offers just about any favorite British food you could want. From fish and chips to mince and onion pies and mushy peas served with French fries (chips in British lingo), an enormous breakfast-served-all-day menu, steak and kidney peas, beefburgers, roast chicken and chips, onion rings, black puddings, bangers and mash, spaghetti bolognese, and sirloin steak – they serve everything.
Prices are great – you can have an awesome meal for between $3 and $7 including a drink, and the food is lovely. It's all made fresh, it tastes as close to genuine British food as you can get out of the country and they even have a Christmas menu if you want to experience real British Christmas food. They also serve a few Thai dishes for those who don't like British food – great if you have Thai friends with you as, overall, Thais are not usually particularly adventurous when it comes to foreign food.
The Drinks – Oh My Cod serves coffee, tea (both hot and cold), cokes, Thai iced tea, fresh fruit juices, lattes, cider, fruit shakes and more than 10 types of beer (imported and domestic). On all their drinks they are very reasonably priced, but especially on their alcoholic drinks, which run a good 50 cents to $1.50 cheaper than many other Bangkok restaurants.
The Staff – The staff is primarily young Thai women, who are all very friendly and helpful. They all know their stuff about the food they serve, and the service is fast and efficient. Most of them speak English well enough that you can get most questions answered and always receive the order you actually order. Western men love eating at Oh My Cod, as the girls are so cute and pretty.
The Restaurant Amenities – One thing I love about Oh My Cod is the amenities inside. Every booth has a flat screen LCD TV where you can watch British TV shows, British comedies, British movies and British singers in concert. The staff are very ameniable to any requests and their selection is great. So it's even a great place to eat alone as you are well entertained while you're there.
The Location – Oh My Cod is only a 2 minute walk from the popular tourist attraction Khao San Road. It's just off a quiet little street and has a lovely little garden outside where you can also eat at one of several tables overlooking a pretty fish pond.
Inside, there are either small tables to sit at or larger booths (with LCD TVs as I mentioned). On extremely hot days it is air conditioned although, most of the time, they just leave the doors open and run fans. It's actually surprising cool inside, even without the air conditioning, and as I'm one of the biggest complainers when it's hot, you know this must be true if I'm saying so.
Oh My Cod is a member of the British Federation of Fish Fryers, which is the regulatory body for fish and chip shops in the United Kingdom. Members adhere to strict regulations, so Oh My Cod is definitely the place to eat in Bangkok, especially if you're a little afraid of Thai hygiene (although I never get sick in Thailand, things are generally very clean here).
Oh My Cod is just off Soi Rambuttri, in Banglampoo and is open from 7:30am to 11pm every day. For more information, you can call them at 02-282-6553 or stop by their website to check out their menu, latest promotions and prices.