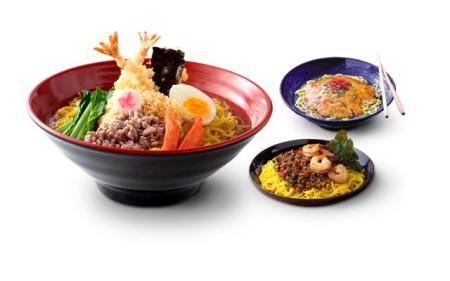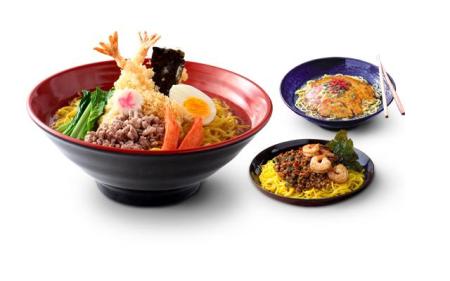 Years ago, when I first moved to Bangkok, Thailand, a Thai student took me for lunch to Oishi Ramen Noodle Bar at Central Ladprao in Bangkok. Like most westerners, I hadn't eaten that many bowls of ramen noodle and, what they sell in the US where I used to live is nothing like a bowl of ramen noodles in Asia. That's why, after my first visit to Oishi Ramen Noodle Bar, I ate there again four times that week. Even now, almost 10 years later, if I don't eat at a branch of Oishi Ramen at least twice a month, I feel deprived.
What is Oishi Ramen Noodle Bar? – Oishi is a Japanese company with various Japanese-style fast food restaurants all over Thailand. One of the most popular is a chain called Oishi Ramen Noodle Bar. Set up as quick-serve and dirt cheap restaurants selling a small menu of ramen noodles with all the toppings, and some appetizers, although the food is delicious it's main attraction for Thais and foreign visitors is its cheap price. After all, when a bowl of noodles topped with slices of beef, pork, or duck and some tasty fresh vegetables is less than $2 (and, boy, is it a filling meal), why would you eat anywhere else?
The Menu at Oishi Ramen Noodle Bar – As I said, the menu is quite limited, compared to other noodle shops in Bangkok. There's a range of different bowls of ramen noodles, served in one of four distinct broth soups, and topped with a choice of meat and vegetable toppings. They usually add half a boiled egg on the top of the whole steaming bowl – my absolute favorite part of the meal.
When you arrive at the restaurant, you're handed the menu by a smiling Thai waitress. Be aware, most don't speak any English though so, once you've decided what you want to order, pointing is pretty much the order of the day. By all means too, after you've decided on your ramen noodle bowl, order an appetizer (the gyozo – pork dumplings – are particularly good when dipped in soy sauce) but, be warned, the noodle bowls are big, so don't let your eyes end up being bigger than your belly.
They also have a small selection of drinks like iced green tea, iced Thai coffee and tea, coke, sprite, water etc.
My favorite bowl of noodles at Oishi Ramen is the Gyu Niu. Topped with a big portion of beef, a half boiled egg and some boiled kale all served in a succulent beef broth, it's definitely a full-sized meal. Out of
more than 300 visits to Oishi in the last ten years, I'd bet I've eaten this dish or something close to it at least 50% of the time. It's that good.
– As I said, people in Bangkok love Oishi Ramen Noodle Bar for its cheap prices. It's also a big reason every branch is packed with high school and university students at any time of day as they can easily afford to eat here, so arrive early for lunch or dinner if you want to get a table.
Appetizers average 45 baht ($1.40) and are a nice start to the meal. Bowls of noodles with meat and toppings begin at 59 baht ($1.95), with other bowls with more meat or added toppings going for 80-100 baht ($2.75-$3.10). It's so much food though, honestly, it's all you need for lunch or dinner.
You'll find Oishi Ramen Noodle Bars all over Bangkok. Mahboonkrong mall has two branches (first floor and sixth floor), there's one in the Maneeya Building, another at Central Plaza Pinklao and one at Fashion Island.