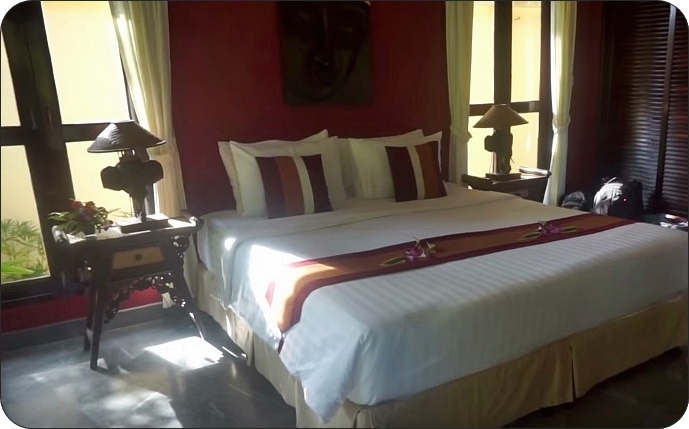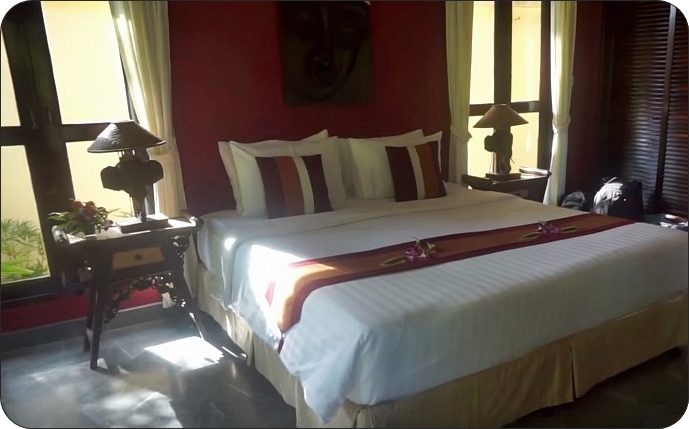 If you are planning a trip to Kanchanaburi, Thailand, and do not want to stay in a cheap budget hotel, you really should look into booking a cottage at the Oriental Kwai Resort. Located about a 15-20 minute drive outside Kanchanaburi, right next to the River Kwai, the Oriental Kwai Resort is situated in a gorgeous garden and teak forest.
Accommodation is in one of 12 beautiful cottages, so you definitely get some privacy, and each cottage comes with stunning decor, air conditioning, a flat screen TV with satellite channels and a DVD player, a mini bar, and coffee and tea making facilities. You can borrow free DVDs from the reception area, if you feel like a quiet night in with a movie.
The bathrooms too are gorgeous, and each cottage also has a lovely veranda where you can sit out in the middle of nature and just enjoy the peace and quiet.
In the Oriental Kwai Resort itself, there is a large swimming pool, a coffee bar and restaurant, you can play badminton or petanque in the garden, and there is free Wi-Fi everywhere in the resort, including in your own cottage.
If you are looking for a peaceful, relaxing Kanchanaburi resort to stay at, you cannot go wrong with this one.
Getting to the Oriental Kwai Resort in Kanchanaburi is also easy. If you don't have a car, upon arrival in Kanchanaburi, just get a taxi in town for the few minutes drive.
As for nightly rates, they currently run between 2,300 baht a night for one person (around $65), which includes breakfast, for a garden view cottage. For two people, that rate increases to 2,800 baht a night ($79). If you want a river view cottage, rates are 2,800 baht ($79) a night for one person, and 3,300 baht ($92) for two people.
Family cottages are also available for a charge of up to 4,900 baht ($138) a night for a cottage that sleeps six.
A British couple that have lived in Thailand for four years were at the resort recently, and filmed two beautiful videos showing the cottage they stayed in and everything the Oriental Kwai Resort has to offer, as well as some of the interesting places to visit close by. Watch 8 Miles From Home's videos below, and you will see immediately just how lovely this Kanchanaburi resort really is.
You can also find out more on the Oriental Kwai Resort's website.