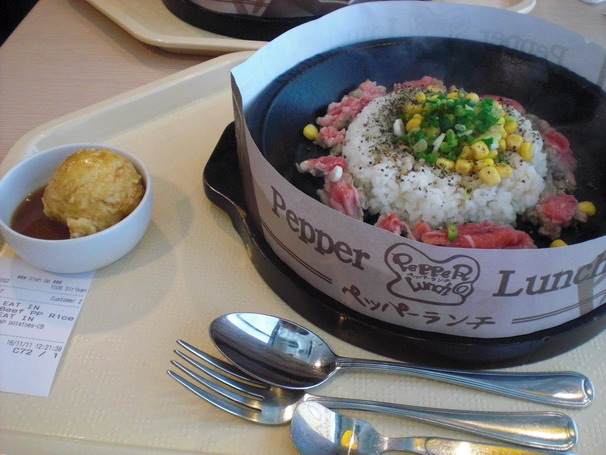 Since Central Ladprao did their renovations and reopened a couple of months ago, I've been thrilled to now have access to a Pepper Lunch restaurant there.  Pepper Lunch is a Japanese chain steak restaurant, but not steak the way most westerners expect it to be served. Instead, Pepper Lunch serves steak (beef, pork, chicken and even salmon) chopped up in small pieces and served with rice, vegetables and sides of delicious sauces.
The food at Pepper Lunch arrives at your table on a hot skillet and with the steak uncooked. The skillet is so hot (260 degrees), if you stir your food around making sure each piece of meat touches the skillet, it cooks at your table in just a minute. Once it's cooked, you add one of two sauces the restaurant has available (one is a sweet honey brown sauce, the other a salty garlic soy sauce – both are delicious). I love it as, unlike many restaurants in Thailand, Pepper Lunch food is always piping hot, and stays hot while you eat it. And, of course, it's delicious.
Yesterday, I ate at Pepper Lunch at Central Ladprao with a friend. I ordered the Pepper Lunch beef steak with rice and sweet corn. At only 115 baht ($3.80), it's a great deal. Plus, for an extra 49 baht ($1.75), I got a large Pepsi and a side order of mashed potatoes and gravy. Yum!
If you're looking for Pepper Lunch at Central Ladprao, you'll find them in the basement of the mall. Try them out. The food is delicious and staff is very attentive and friendly.