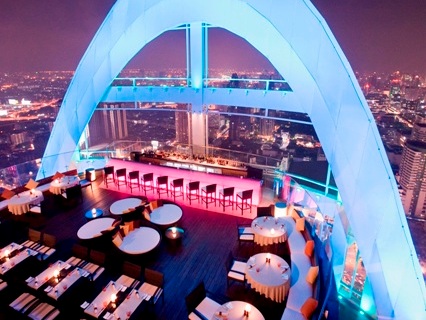 If you're looking for a fun and cool – (temperature-wise, that is) place to hang out in Bangkok in an evening and you don't want food, check out Red Sky, an amazing rooftop bar perched on top of the Centara Grand on Rama I Road in downtown Bangkok.
From this 55th floor spot,you can see out over Bangkok, watch the traffic and flashing lights but still be far above the pollution and noise. Because of its height too, it's far cooler up here than down below and, unless they hitch a ride in the elevator, mosquitoes don't fly this high.
Red Sky has an awesome wine list, a martini bar,and a great selection of beers. The food though is unimaginative, terribly cooked and ridiculously expensive. I don't mind paying a higher price for good food, but if  rubbery steak is what the chef thinks is acceptable, he really needs to go back to cooking school as this was literally the worst steak I'd ever tasted.
Eat before you arrive at Red Sky so you can avoid the food and stick with the booze instead. You can't go wrong there.
Red Sky also has live music (there was a jazz pianist when we were there, who was wonderful) and the atmosphere, overall, is elegant and relaxing. Now, if they'd just get a decent chef, it would be one of the best places in Bangkok.
You'll find Red Sky on the 55th Floor, Centara Grand at CentralWorld, 999/99 Rama 1 Road, Pathumwan, Bangkok