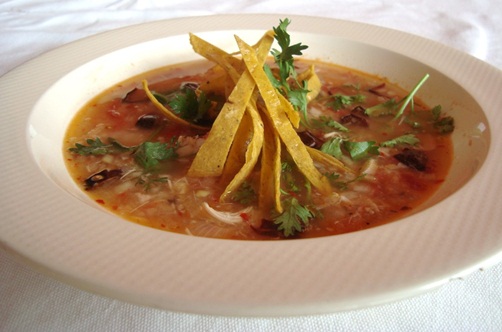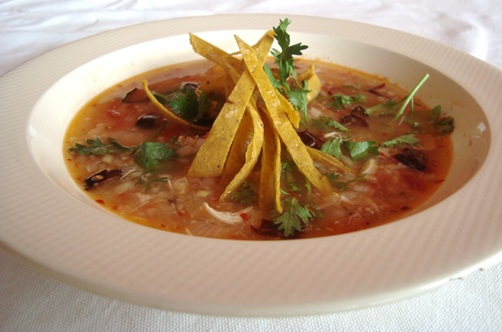 On one of my last trips to Chiang Mai, Thailand I discovered The Salsa Kitchen. With the dearth of Mexican restaurants in Thailand, to discover one this cute and serving food this delicious was a pleasant surprise. The Salsa Kitchen is also one of Chiang Mai's most popular restaurants, and it's not difficult to figure out why.
Location of The Salsa Kitchen – Easy to find, The Salsa Kitchen is situated just down the street from one of Chiang Mai's popular malls, Central Kad Suan Kaew. Get a tuk-tuk and tell the driver it's just past the shopping mall opposite the Shell gas station, or if you take a songtaew get off at the mall and walk towards the mountains. Less than a two minute walk and you'll see The Salsa Kitchen on your right hand side.
Atmosphere – One of the things I love about The Salsa Kitchen is the atmosphere. Even late morning, when they open, the restaurant's bright Mexican-style colors, cool paintings and tile flowers scream "Mexico". At night, with the lights down low, if you didn't look out of the window at the Thai tuk-tuks going by, you'd swear you were in Mexico. The restaurant is small and cozy and has such a friendly air about it, it's a delight to eat there.

The Food at The Salsa Kitchen – Of course, we all recommend restaurants for the food and, at The Salsa Kitchen, that truly is the best part. What I love about them is, unlike other Mexican restaurants in Thailand, they don't try to pretend they serve authentic Mexican food (there isn't a place in Thailand that does!). Instead, they tell you it's food that has the Mexican soul, although in my opinion, much of what they serve is pretty close to authentic.
Start off your meal with an appetizer. I recommend the Mexican bruschetta, which are similar to the Italian type, except they add tortilla wedges and lots of garlic for a truly unique taste or the nachos.
Some of the best entrees include beef enchiladas that come with Mexican red rice and a delicious salad. The San Francisco mission style chicken burrito is excellent and cheap at 149 baht – $4.50. The lime marinated grilled chicken breast fajitas are also amazing, and huge and, of course, don't miss a margarita or Chiang Mai sangria, which also come in pitchers if you want more than a glass.
Prices at The Salsa Kitchen – Used to eating Mexican food in Bangkok, I'm always amazed at the cheap prices at The Salsa Kitchen. You can get an appetizer for 89 baht (about $2.90) and a large entree in the 139-149 baht ($4 to 4.50) range. Considering similar food in Bangkok is in the $7-10 range, The Salsa Kitchen is dirt cheap and the food more authentic.
If you're looking for a reasonably priced Mexican meal in Chiang Mai or just a great restaurant with a nice atmosphere and friendly staff, you can't go wrong with The Salsa Kitchen. Last time I was there, they also had a Caribbean menu so, if you're not in the mood for Mexican, there's other choices too.
The Salsa Kitchen, 26/4 Huay Kaew Road, Chiang Mai – Tel: +66 (0)53 211 550
By the way, if you love ethnic food, don't miss checking out these Italian restaurants in Chiang Mai once you get a little tired of Mexican. They're wonderful.