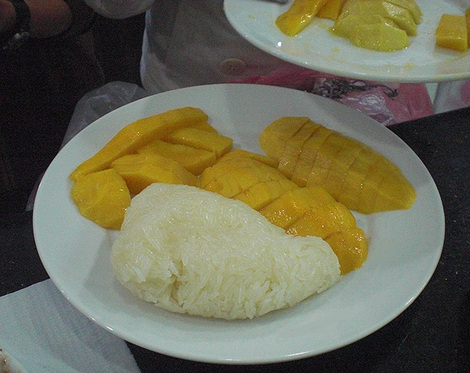 Mango Tango is a relatively new Bangkok drinks and dessert sensation. Mango lovers (which is most of Thailand) are flocking to one of the six branches in Bangkok in droves and slurping down mango smoothies and eating mango ice cream and mango pudding. If you too are a mango lover, this is why you'll adore Mango Tango.
What is Mango Tango? – Mango Tango is a cafe chain that concentrates on serving all things mango. From mango smoothies to mango ice cream, mango pudding to dried mango, and mango and sticky rice, just about every drink and dessert dish using the famous fruit is served at Mango Tango.

Atmosphere at Mango Tango – Because there are several different branches and every branch is decorated differently, it's fun to try all the different locations. The location at Central World Plaza is just a small cafe on one of the top mezzanines. With only a few tables and chairs and close to several fast food joints, it's a bit sterile and lacking in atmosphere but the food more than makes up for it.On the other hand, the Mango Tango in Siam Square is all atmosphere. Cool hand painted stencils on the whitewashed brick walls, funky rattan furniture and packed with university students, this one is a fun place to hang out and enjoy fresh mango.
Food at Mango Tango – The mango, the mango, oh the unbelievable mango. It's incredibly delicious. Thailand is famous for its fresh mango and it's available everywhere, but Mango Tango serves up some of the best fruit, drink and dessert concoctions ever.Try the mango with sticky rice of course (Thailand's most popular dessert), as this also comes with a scoop of sorbet ice cream. The cubed mango with sago is phenomenal (the fruit is so fresh) as is the mango pudding.
However, the piece de resistance is the Mango Tango, which just about everyone orders. It's a plate with half a mango cut into cubes, some mango pudding and a scoop of mango ice cream with lots of fresh cream on top.
The cafe serves any number of different varieties of desserts as well as smoothies, mango juice, yoghurt drinks and more.Prices too aren't too bad, with an average dessert between 70-100 baht (around $2.10 and $3) but you can also split one between two people to make it even cheaper (although I've never managed that yet, I mean, who wants to? I like to keep them to myself).
There are several Mango Tango locations with more opening in Bangkok all the time. The most popular one is at Siam Square, Soi 4, with a smaller one in Central World Plaza.