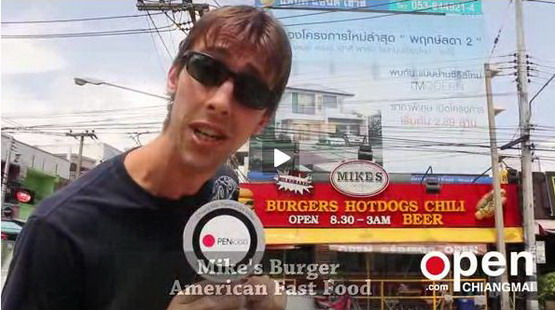 Whenever I go to Chiang Mai, I love to hangout around the Tha Pae Gate area of the city. In the old part of Chiang Mai, it's packed with cool restaurants, cafes, shops, art galleries and the like and an incredibly fun place to see. So, today, I was thrilled to come across a video on my now-favorite-video-website-about-Thailand, OpenChiangMai.com on 'Fast and Furios Bistors @ Tha Pae Gate', with some of my favorite restaurants showcased.
Featuring my newly discovered and highly adored presenter, Alex, the video hits just about all my favorite places – Mike's Burger (is there a better burger place in Chiang Mai, because I've never found one?), Art Cafe (love that place, awesome food), and Taste from Heaven (great for veggie lovers, of which I am one). But which Tha Pae restaurant did Alex love the most?
For more – watch the cool video and then please check out OpenChiangMai – they really do have the loveliest videos.