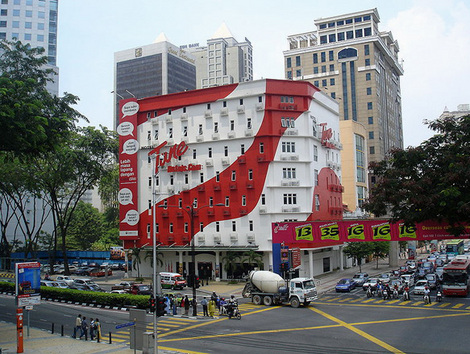 Tune Hotels, like the one in downtown Kuala Lumpur, Malaysia are part of the budget airline Air Asia and so obviously offer cheap accommodation, but are they worth staying in? If you want clean, basic and safe accommodation in Kuala Lumpur for an inexpensive price – yes, they are. Just don't expect anything fancy.
With the motto "5-Star beds for a 1-star price" Tune Hotels are cheap hotels that offer a tiny room, a comfortable bed, a high-powered shower and pretty much nothing else. No towels, no toiletries, no air conditioning and no breakfast. You can get all these things. You just pay extra, which honestly I found a little irksome. I recently stayed one night in a Tune Hotel in Kuala Lumpur, Malaysia and, with a couple of reservations, I do recommend it.
The Price of a Tune Hotel Room
The main selling point for a Tune Hotel room is the cost. With special promotions in Kuala Lumpur starting at 15 ringgit a night (approximately $5.25 and, yes, you read that correctly – $5.25), a Tune Hotel is one of the cheapest hotel room you'll find. Even on a normal day, without promotions, a hotel room in Kuala Lumpur is still only 48 ringgit ($16.40) for a single room and 53 ringgit ($18) for a double room.
Even youth hostel rooms are more expensive than this.
What Do You Get For Your Money at Tune Hotel in Kuala Lumpur?
I stayed one night in the Tune Hotel in downtown Kuala Lumpur, simply because I ended up staying a night longer than I expected to and my normal hotel was fully booked. So, having wanted to try a Tune Hotel, I decided now was the time to do so.
When I arrived, I was greeted by friendly staff, checked into a single room and given a card to access my room. During the check in process, I also paid an extra 21 ringgit ($7.10) for 24 hours of air conditioning, 5 ringgit ($1.75) to rent a towel and a toiletries kit, and another 12 ringgit ($4) for 35 hour in-room internet.
Total price for the room and all the extras? $30.85 – still relatively cheap, although not as cheap as advertised when you count in all the 'extras' – extras that come with the room in every other hotel I havee stayed at in Kuala Lumpur.
I was given a room on the third floor and, when opening the door, immediately realized how incredibly tiny the room is. There is barely any room to put your suitcase down and, with no closet, all of your belongings have to stay in it.
The bed, which is large and comfortable, takes up most of the room. The side table with mini safe built in, takes up the rest. The bathroom is right off the room and is also teeny tiny. But, everything was spotlessly clean and, as I mentioned, the bed was likely one of the most comfortable beds I'd ever been in.
The only thing I did not like about the room was the huge advertising posters on the wall. Yes, you get to look at McDonald's posters and advertising for Air Asia while you're sitting on your bed. Tacky, I think.
Amenities at the Tune Hotel in Kuala Lumpur
For an extremely cheap hotel, the Tune Hotel in Kuala Lumpur has some excellent facilities.
Downstairs, there are computers you can use to access the internet for free if you don't have a computer with you, and almost all the time I was there, at least one of them was always available.
There's also a small 7-11 in the lobby area, where you can buy snacks, drinks, newspapers etc, along with a Subway sandwich shop and a Malaysian food shop. I ate breakfast at the Malaysian restaurant on the one morning I stayed in the hotel and the food was cheap and delicious. The hotel is also about a minute's walk away from several other places, including a Starbucks.
If you need to get your clothing clean, the hotel has a laundry room (you need coins). Washing and drying takes about an hour and a half, and it's particularly useful if you're in the middle of a vacation and continuing on somewhere else.
Location of the Tune Hotel Kuala Lumpur
Although a little confusing to find, it is actually in a good location. The downtown Kuala Lumpur Tune Hotel is only three or four minutes walk from the Medan Tuanku monorail station and a similar distance to the Sultan Ismail train station.
From here, you can get around Kuala Lumpur easily particularly to places like KLCC and the Petronas Towers, and backwards and forwards to the airport.
Overall, I would give the Tune Hotel in Kuala Lumpur three out of five stars. It is exceptionally clean, has 24 hour security, the bed is amazingly comfortable and you end up with a good night's sleep in a great location. The only things I think need to be changed are the in-room on-wall advertising, which is simply tacky, and some of the 'extras' should be included in the price.
And, although I did like staying at the Tune Hotel, on my next visit I'll go back to the Cube Hotel. A slightly better location, as cheap a price and all the 'extras' of Tune come with the room at the Cube Hotel. But, for anyone else who hasn't stayed in a budget hotel in KL before, the Tune Hotel is a good option.
There is also a second Tune Hotel in Kuala Lumpur, located right next to KLCC airport and a great place for a cheap night's sleep between flights.
You can find out more about the Tune Hotel in Kuala Lumpur, as well as other hotels the group owns,  on the Tune Hotel groups' website.