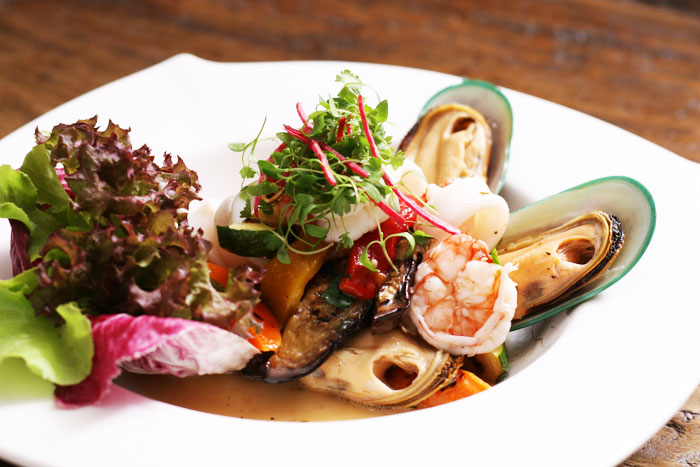 Bacco is one of Bangkok, Thailand's favorite Italian restaurants. Rustic, authentic and serving some of Bangkok's best pizzas and sandwiches, as well as tasty seafood and superb steaks, it's a must-eat-at for any Italian food lover.
At Bacco, owner Sergio Forte has created a relaxed, laid-back and friendly home-away-from-home, where you can enjoy a huge variety of Italian cusine – antipasti, soups, salads, pizzas, pastas, sandwiches, fish, chicken, seafood, veal and so much more besides.
We highly recommend the piadas, the most amazing flat Italian sandwiches stuffed with things like Parma ham and cheese. For your main course, one of Bacco's incredible pizzas should hit the spot, or how about lamb shank in a wine sauce, a lamb chop, calamari, fritto misto (fried prawns and fried squid rings in a piada bread basket), or sole with almond and lemon sauce?
The menu at Bacco is absolutely massive – you could literally eat here every day for three months and never eat the same thing twice — and the food is incredible. Prices too aren't too bad either, with appetizers starting at 170 baht, and the average main course between 350 and 500 baht. A reasonable price but especially for the world-class quality of the food.
Don't forget to order dessert too. Again Bacco desserts are superb, with everything from apple strudel and ice cream to cheesecake and creme brulee.
Bacco has been named one of the top restaurants in Bangkok several times, and it's easy to see why.
You'll find Bacco at 35/1 Sukhumvit, Soi 53 in Bangkok. They open at 11:30am until 3pm, close for siesta, then re-open at 5:30pm until midnight.