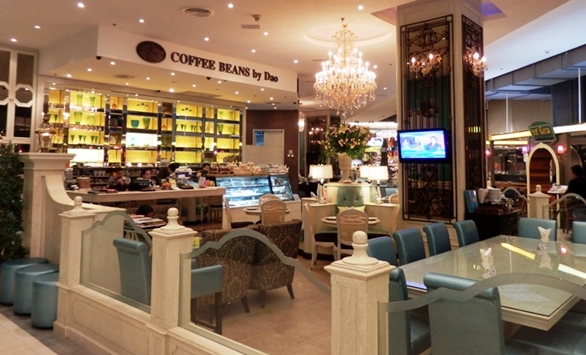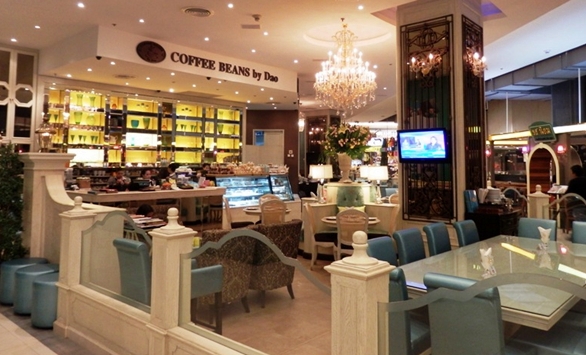 One of the top visited and trendiest restaurants in Bangkok, Thailand is Coffee Beans by Dao. Coffee Beans by Dao serves Thai food that's very good, but it's not the food they're famous for – it's the desserts. Coffee Beans by Dao makes the absolute best desserts I've ever eaten in Thailand and most Thais agree. Cheesecakes, coffee cake, mango mousse, caramel cake, ice cream – you can get anything and it's all mouth-wateringly delicious.
If you're in Bangkok and looking for a good restaurant for a snack, lunch or dinner, Coffee Beans by Dao is one of the best and here's why.
The Service at Coffee Beans by Dao – One thing I love about this restaurant is the staff is so attentive. When you first arrive at any Coffee Beans by Dao, you're immediately shown to a table, brought a glass of ice cold water and given a menu. After you order, food arrives very quickly and, unlike many restaurants in Bangkok, I've never been served something I didn't order.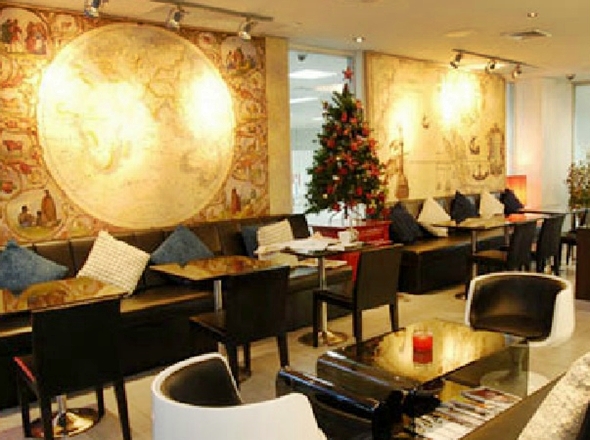 The Atmosphere at Coffee Beans by Dao – Every restaurant is designed in a clean Thai-Western style with large tables and comfortable chairs or booths and with an open look to each café. The restaurant windows are large and the space is big, which is great for people watching, and to make you feel like you have plenty of room to relax. Each restaurant is also sparkling clean at all times.
One thing I really love about the Coffee Beans by Dao restaurants though is that all five branches look completely different. There's no cookie-cutter design going on here. Instead, each restaurant has been designed to suit the area it's located in, so you never feel like you're sitting in a chain restaurant.
The Food at Coffee Beans by Dao – The menu is extensive with lots of choices for any taste. They serve traditional Thai food like Thai curries, Thai spaghetti, fried rice with shrimp, crispy egg rolls and stir fried veggies. You can also order Western-style pastas, but with a Thai flavor and Thai salads, numerous vegetarian dishes and noodles.
Every dish I've eaten at Coffee Beans has been fresh, nicely spiced (but not too spicy!) and succulent. I recommend any of the pastas (unlike at a lot of Thai restaurants, they're not too salty), the Thai salads, fried rice and the green curry. All superb.  In fact, the only downside about eating at Coffee Beans by Dao is the prices are quite high. 200 baht-plus for many of their dishes which, as that's the average daily salary in Thailand, you can imagine how high that is compared to most other restaurants that serve Thai food.
Desserts at Coffee Beans by Dao – Desserts are really why this restaurant is so popular.
When you walk into any Coffee Beans by Dao location, you'll immediately see huge dessert cases stocked full of cakes, pies and mousses. Carrot cake, apple pie, green tea cake, lemon meringue pie, strawberry cheesecake, blueberry cheesecake, cookies and cream cake, tons of different styles of chocolate cake, fruit mousses, banoffi – these are just a few of the more than 50 desserts available at each branch.
The best thing at Coffee Beans by Dao though is, even if you go at 9pm, there are still oodles of choices of dessert. It sells well so they make more. They don't sell until it's sold out and that's it, so you'll always have plenty of choice.
Coffee Beans by Dao are lovely restaurants to go to in Bangkok for an afternoon snack or a great lunch or dinner. Remember, prices are a little high compared to the vast majority of Bangkok's restaurants so don't' expect to get out of here cheaply. But, for a beautiful restaurant with awesome desserts, Coffee Beans by Dao should be tried by anyone visiting Bangkok, at least once.
For more info on Coffee Beans by Dao, check out their pretty website, then go and eat at one of their superb restaurants.