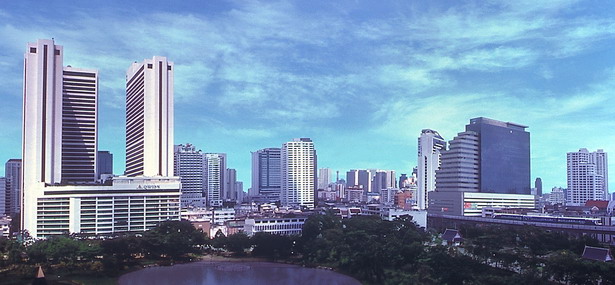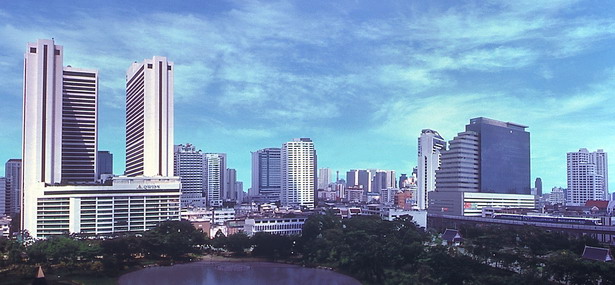 I stayed at the Imperial Queen's Park Hotel in Bangkok, Thailand when I attended a conference there. Although I live in Bangkok, the thought of traveling home every night after a long day listening to lectures was just too much for me, so I decided to book into the Imperial Queen's Park Hotel for a couple of nights instead.
The Imperial Queen's Park Hotel is one of the nicest hotels in Bangkok, and here is why.
Imperial Queen's Park Hotel Staff – One of the most pleasant things about the Imperial Queen's Park Hotel is the staff. Upon arrival at the hotel, I was greeted by the doorman who directed me to the front desk where friendly, smiling staff had me checked into the hotel in less than 5 minutes.
Throughout my entire stay, from the helpful dining room staff constantly bringing hot coffee, to housekeeping who brought extra towels and even to the staff working at the conference I was attending in the hotel, all were smiling, helpful and provided excellent customer service.
Rooms at Imperial Queen's Park Hotel – Bangkok has a plethora of excellent hotels to choose from, so I'm always quite picky with rooms. That is why I was pleasantly surprised when I was shown to my room that the room was even larger and more spacious than I expected.
I booked a Deluxe Room which came had a refrigerator, hairdryer, coffee maker, a safe in the room and a large bathroom. I also liked the complimentary bath products that were in the bathroom as they were a slightly higher quality than at similar hotels.
In fact, the rooms at the Imperial Queen's Park are lovely but there is one thing lacking – the cable TV service. While the hotel does have cable TV, the available channels are very limited, so I found myself watching CNN most of the time.
In similar hotels in Bangkok, and even budget hotels in Kuala Lumpur and Hong Kong, I had had a much larger number of channels to watch, so this was slightly disappointing.
Food at Imperial Queen's Park Hotel – I was fortunate to not only experience the normal food for a regular guest at the Imperial Queen's Park, but also to eat three lunches there and mid-morning and afternoon snacks as part of the conference I was attending.
All the food I ate at the hotel was delicious. The buffet at breakfast time had a good choice of food and the coffee was hot and good (unlike many Bangkok hotels that seem to serve lukewarm, bitter coffee). The snacks at the conference were lovely with finger sandwiches, mini croissants and different types of cakes and cookies. Lunch too at the conference was decent, especially considering the hotel was catering to more than 1,500 people.
One evening for dinner I also ate with a friend at one of the hote's seven restaurants. We chose Kacho Japanese restaurant and were happy to see the food was authentic Japanese and very fresh. Try the sushi, you won't be disappointed.
Amenities at Imperial Queen's Park Hotel – The hotel has a good business center where you can take care of all your business needs, a saunu and jacuzzi, a spa, a hairdresser, a beauty salon and a fitness center. There are also several shops, seven restaurants, two bars, a snooker room, and even squash courts so, on a day where you don't feel like leaving the hotel, there's plenty to keep you occupied.
Location of Imperial Queen's Park Hotel – I like the location of the hotel as it's within walking distance of Sukhumvit Road, but not too close so that you get the traffic noise. It is also a pleasant walk through a lovely park to get to Sukhumvit and, once there, you'll find yourself right next to the Emporium Mall, a large shopping mall with many stores and restaurants.
In the area are also several British pubs, an Irish pub, Japanese, Chinese, Indian, Thai, Italian restaurants, beauty shops, a book shop, a pharmacy, several supermarkets, antique stores and much more, so you cannot beat the location.
It is also only a three minute walk to the Phrom Phong sky train station, so very easy to move around Bangkok from the hotel.
Starting at $75 a night, the Imperial Queen's Park Hotel is not one of the cheapest hotels in Bangkok, but they still charge a reasonable rate, especially for the quality of accommodation and high level of service you receive. I would definitely stay at the Imperial Queen's Park Hotel again and, in fact, have recommended it to several friends since.
For more excellent hotels in Bangkok, don't miss reading The Top Cheap Hotels in the Pahonyothin Area of Bangkok, especially if you would like to stay outside the downtown Bangkok area.