Whenever I shop at the massive Mahboonkrong (MBK) Mall in Bangkok, Thailand I make a point of relaxing over coffee at Star Coffee, a trendy cafe in the center of the mall. Star Coffee not only serves a perfect latte and delicious goodies to eat, it's also one of the best places in the city to people watch.
Where Is Star Coffee? – Star Coffee is an independent coffee shop located on the fifth floor of Mahboonkrong (MBK) Mall in downtown Bangkok. Up until three years ago, the space now occupied by Star Coffee was nothing more than a wide balcony on an often-empty floor of the mall, overlooking several large shopping areas. Then, some enterprising soul decided to rent the space and install a large coffee shop and what a superb success that has been.
Since Star Coffee opened, not only did it become a popular destination for trendy types who frequent the mall, it's also part of a growth of other cool stores on the fifth floor of MBK, including a book shop, several excellent snack shops, and a large international food court.
Food and Drinks at Star Coffee – I love stopping off at Star Coffee as it's a wonderful place to people watch. But, if that's all it offered, I would have given up the ghost long ago as would most of its clientele I fear. What keeps people going back to Star Coffee isn't just that it's in a prime spot in the mall, it's mainly the excellent beverages and food.
Like every Bangkok cafe, Star Coffee serves all the usual coffee and tea drinks – lattes, cappuccinos, Americanos, green tea, hot chocolate, iced drinks, frappes and more. I'm critical of lattes, particularly in Bangkok where they often arrive lukewarm. At Star Coffee however, not only do the coffee drinks arrive hot if they're meant to be, they're also served with lovely designs embedded in the foam and are really tasty.
Food too is a nice change. On each of my visits, I spend ten minutes trying to figure out if I want to try one of their excellent cakes (gateaux, fruit cakes, fruit tarts, cheesecakes, eclairs, chocolate bombs etc), or is today the day I'll have a scoop of gelato from their more than 20 flavors, or should I really splurge and let them make me a waffle or a crepe with bananas,chocolate sauce and ice cream? Hard to choose, but every time, once the decision is made, it's tasty.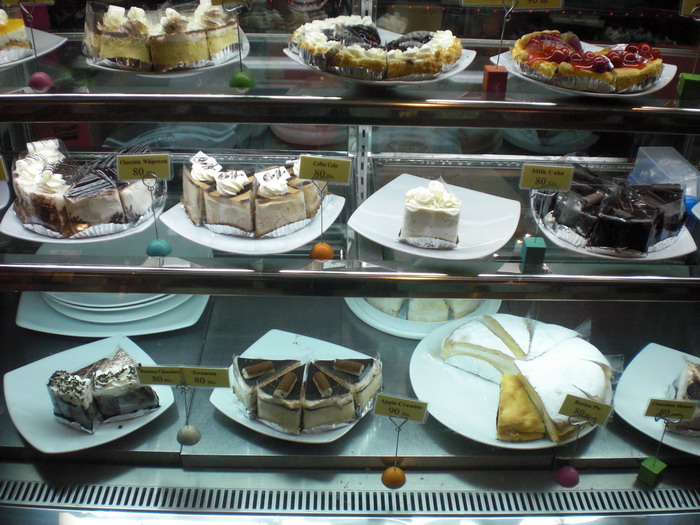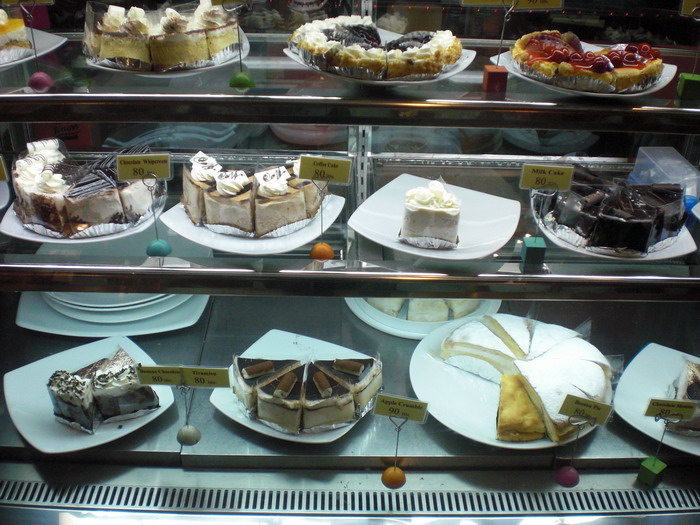 Prices at Star Coffee are excellent, with coffee drinks 50 cents to $1 cheaper than at Starbucks and cakes and gelato running around $2 a slice and $1.50 a scoop.
Atmosphere and People Watching – To say the cafe is located on what used to be nothing more than a wide-open sterile and dull balcony, the owners created a cool and trendy cafe out of not much at all. Now, Star Coffee is all bright orange and red comfy chairs, 1950s style tables and decor and suffused with warm lighting that gives an air of coziness to the place. It's hard not to feel relaxed when you get there.
Add onto that its location, slap bang next to the busiest escalators in the mall and right on the way to the enormous international food court and you can sit at Star Coffee all day and simply people watch, as just about everyone who comes to the mall will walk this way eventually.The next time you're in Bangkok and close to MBK Mall, why not head up to the balcony on the fifth floor and spend a while at Star Coffee. I guarantee you'll enjoy the coffee, the scrumptious cakes and gelato and, of course, be enthralled by all the fascinating people walking by.
Star Coffee is in MBK Mall, next to National Stadium sky train station in Bangkok.