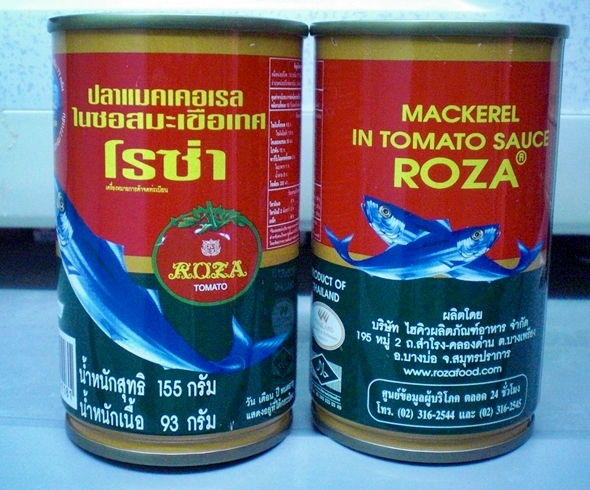 Like most people, I occasionally try to save money by eating cheaper foods than I normally would. In the case of Thai canned mackerel in tomato sauce, however, I eat them not because they're cheap (they are!) but because they are absolutely delicious. In fact, Roza brand Thai canned mackerel in tomato sauce makes such a delicious sandwich it's one of my favorite easy meals.
You can buy Roza brand Thai canned mackerel in both oil and tomato sauce. I tend to go for the mackerel in tomato sauce as it's lower in calories and probably healthier. But, the fish in oil version is nice too.
You can buy Roza brand canned mackerel at any supermarket in Thailand, and at many 7-11s and convenience stores, at a cost of between 15 and 17 baht (47 cents and 55 cents) a can. For me,  one can of mackerel makes sandwiches for two meals so, for less than 25 cents a meal plus a bit of bread and a smear of butter, I have a very nice sandwich I can eat with a side of potato chips, fruit or salad.
And, of course, if you love mackerel so much you're going to eat it several times a week (that's me!), you can even buy the Roza brand mackerel in bulk – 12 cans to a flat — which works out around 13 baht a can. Yep. Dirt cheap and so healthy.
Roza also makes a variety of other cans of mackerel — including a spicy mackerel and one with mixed vegetables. You can find out more about them on Roza's website and, yes, it's in English.