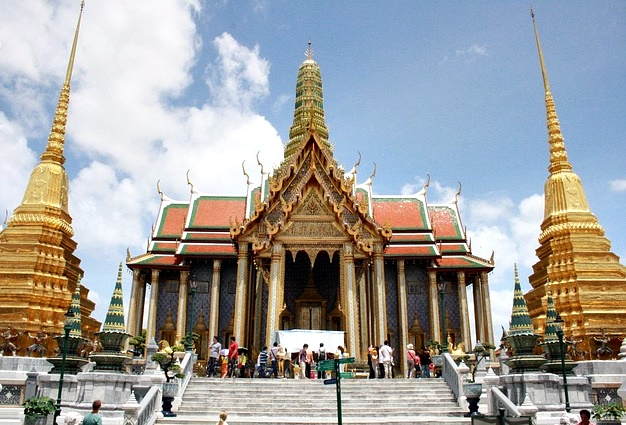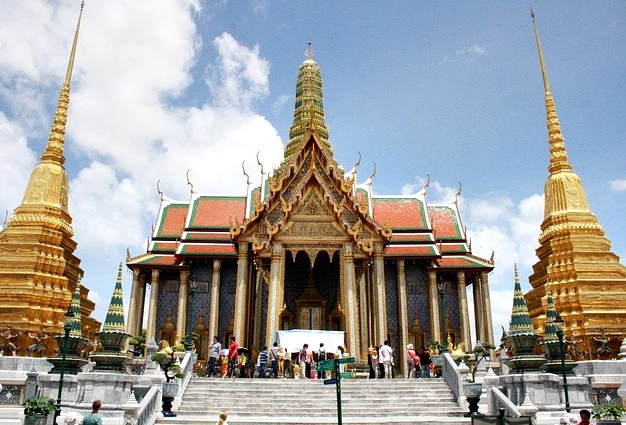 Solo travel in Bangkok, Thailand what to see and where to go if traveling alone
Will you soon be heading to Bangkok, Thailand as a solo traveler? Are you a little nervous about traveling alone, especially if you are a woman?
Don't be. Not only is Bangkok one of the safest cities in the world (I am female and have been living here for 15 years with zero problems anywhere), it is also one of the most interesting.
Throw in that it is also an easy place to meet other solo travelers and, once you get to Bangkok, you will wonder why you left it so long to visit.
During any solo travel in Bangkok, there are also certain things you should do. Here is a list of things to check out during your time in this amazing city.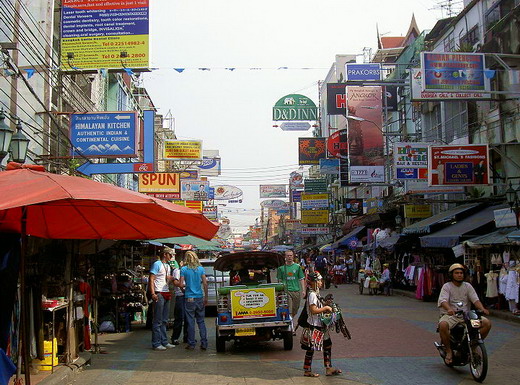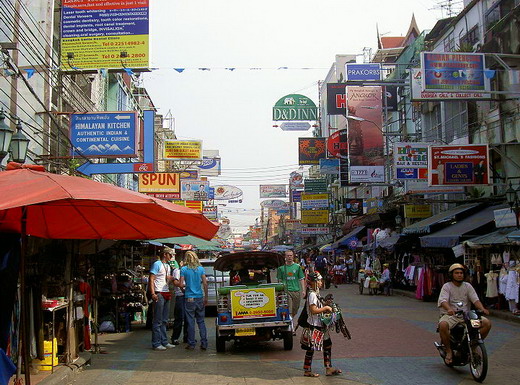 Khao San Road
While Khao San Road is definitely not my favorite place in Bangkok — well, I live here, it's very tacky, quintessentially not-Thai and basically nothing more than backpacker heaven — it is a great place to get yourself acclimatized when you first arrive in Bangkok and to meet a ton of other solo travelers.
Eat cheap street food, drink Thai beer and hang out in bars and cafes on Khao San Road with other travelers who will be able to give you some excellent tips about where in Thailand to go and what to see. Find out how to get to Khao San Road here.
Stay in the area at Nap Park Hostel — which has several communal spaces that are great for getting to know other travelers. Or, if you would like to spend a little more money and have a more private experience, then ZEN Rooms offers budget hotel rooms that are clean and comfortable.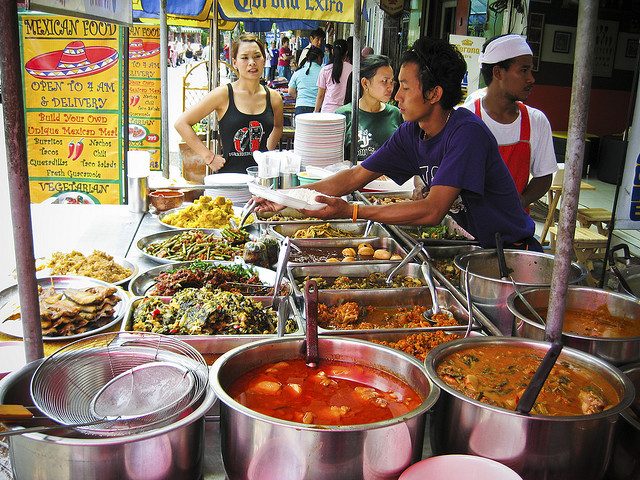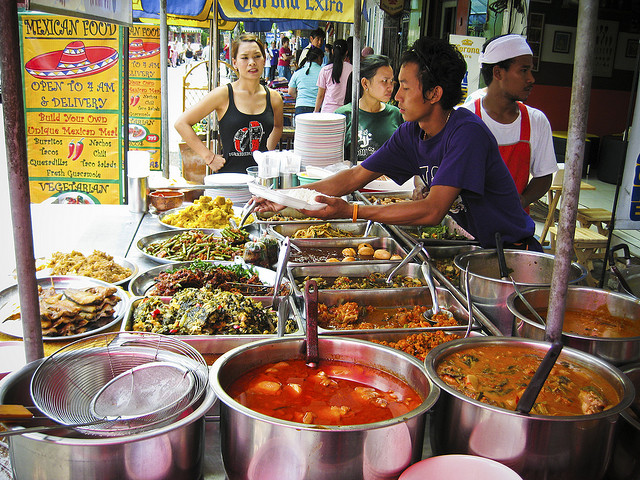 Eat Bangkok street food
Literally some of the best and cheapest food in the world, Bangkok street food is everywhere on every block, and you should eat it as much as you can. Street stalls are also wonderful for people who travel alone in Bangkok as many people eat at them solo.
At a typical street stall, you can buy a plate of Thai food (som tam, pad Thai, chicken/shrimp fried rice, noodles, chicken satay with a peanut sauce dip — you name it, they sell it) for around 40 to 60 baht ($1.25 to $1.90). The food is fresh, traditional Thai and always delicious. You can also buy a bottle of water, a Coke or a beer for just a few baht more.
What to eat at a Thai street stall will give you some ideas of dishes to look for.
Just one tip to make sure you get some of the best street food in Bangkok — choose a stall that is popular with Thais, as Thais will never eat at a street stall serving food that doesn't taste very good.


The Grand Palace and Wat Phra Kaew

Just about my favorite spot in Bangkok when it comes to tourist destinations, the Grand Palace is an opulent and incredibly beautiful palace and temple complex that you have to see to believe. It also includes the famous Wat Phra Kaew, or Temple of the Emerald Buddha, which houses a stunningly beautiful Buddha statue carved from one enormous emerald.
Just make sure you are appropriately dressed for a temple as, if you are not, officials will make you rent clothes before they let you in.
And, if someone stops you at the gate and tells you "The Grand Palace is closed today", it is not. It is a well-known scam from touters trying to get you to take a tuk-tuk tour to a local jewelry shop. Ignore them and head to the Grand Palace where you will see it is most definitely open.
Get there early as, after about 10.30 am, it is unbelievably crowded.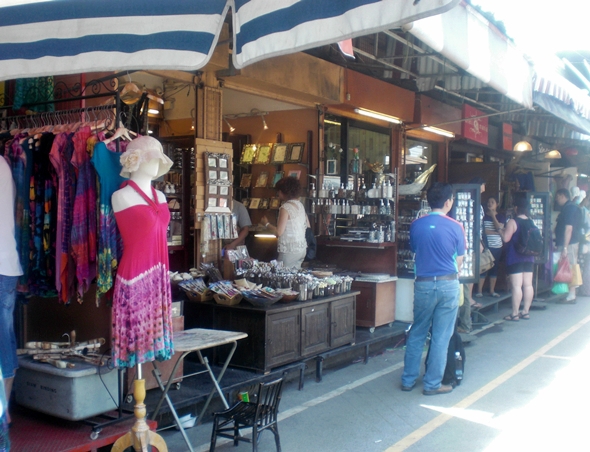 Chatuchak Weekend Market
Chatuchak is quite literally one of the best places you will ever visit if you love to shop, grab a cheap coffee, breath in the local sights and sounds, or hang out in a bar drinking beer and watch the crowds walk by.
This open-air market has over 15,000 stalls and sells everything from cheap clothes, DVDs and CDs, Thai handicrafts, artwork and house supplies to exotic animals and pets.
Plan to spend half of your day here as it is huge and there is so much to see. You can also stop off at a cafe to have a coffee and cool down, or at one of the market's many cheap restaurants for a very good and dirt cheap lunch.
Bars at Chatuchak, by the way, are a wonderful place to meet fellow travelers as well as talk to some of the local Thais. There are several bars in the market that get quite busy, but the atmosphere is relaxed and chill. Just order a beer and some Thai snacks, find a table and start talking to people around you.
Here are my tips on how to survive Chatuchak Weekend Market. It is open on Friday nights and all day Saturday and Sunday till around 6-7pm.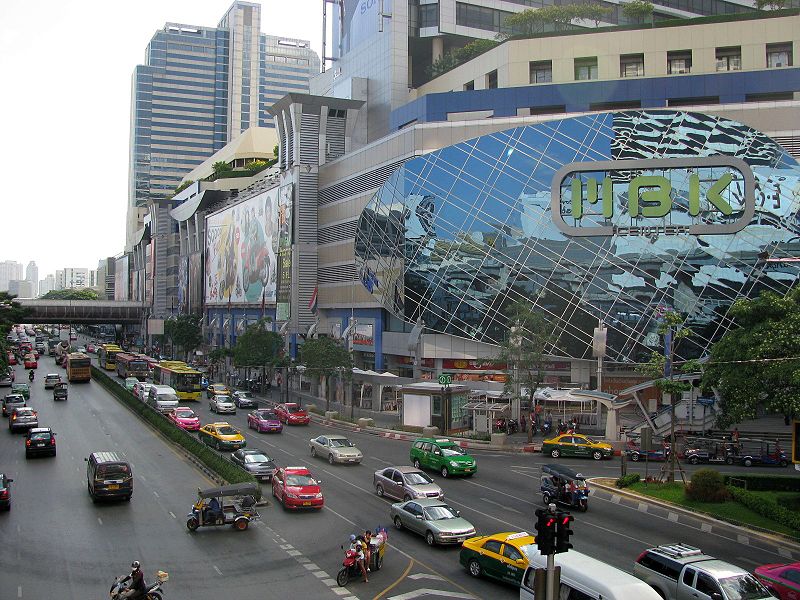 Mahboonkrong (MBK) shopping mall
If you want to do some shopping but can't stand another second in the heat, then head to Mahboonkrong shopping mall. Known by the locals as MBK, Mahboonkrong is one of the cheapest and largest malls in Bangkok.
MBK is a great place for someone traveling alone in Bangkok as it is easy to get to (it's right next to the National Stadium sky train station), can keep you occupied for hours, and is full of good restaurants and coffee shops.
There is also one of the best food courts in Bangkok on one of the higher floors. A superb place for a dirt cheap lunch or dinner.
And, if you really can't bear going back into the heat, MBK also has a bowling alley and a multi-screen movie theater — both of which are excellent.
Here are some tips for what to buy at MBK.
Take a Chao Praya ferry boat
A wonderful way to see some of the city, experience local life and get a bit of a breeze while you do it is to take a motorized ferry boat up the Chao Praya River. Boats run all day and well into the evening hours and are only 15-30 baht per trip (less than $1) depending on where you are going.
My favorite way to take a boat on the Chao Praya, and I travel alone in Bangkok all the time, is to take a ferry boat and get on and off at different stops. I then spend an hour exploring the neighborhood, taking photographs, getting a coffee, eating lunch, before I get back on another ferry boat to the next stop.
Here is what you will need to figure out the boat system. Believe me, though, it's easy. And, if you get on a boat going in the wrong direction, just get off at the next stop and get on another one going the direction you want to go. They arrive every five minutes or so.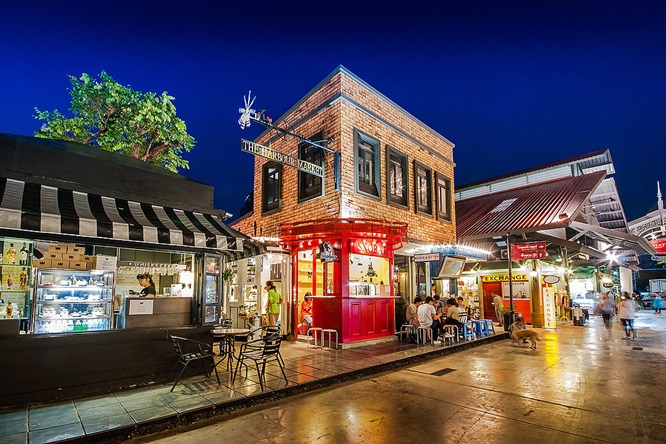 Asiatique
Asiatique is a gorgeously designed night market right on the banks of the Chao Praya River. It has a massive number of cool restaurants and cafes and more than 1,500 boutiques and shops that are housed in a faux warehouse district.
There is also a ferris wheel, a ladyboy cabaret and a Thai puppet performance, and it is a great way to spend an evening. Especially if you are traveling alone in Bangkok as the atmosphere is fun, all welcoming and packed with Thais and non-Thais alike.
You can get to Asiatique on a ferry boat from the Saphan Thaksin boat pier, right next to the Saphan Thaksin BTS sky train station.
Do be warned, though, the Saphan Thaksin BTS station is due to close sometime this year for an expansion (no news as to which date yet though). So if you are heading down to the river via the Saphan Thaksin sky train stop, you may have to get off at the previous station — Surasak — where there will likely be free shuttle buses available to Saphan Thaksin.
Remember, traveling along in Bangkok is not dangerous. Thais are friendly, helpful and love to take care of foreigners so, if you need any help, do not be afraid to ask. Many Thais do not speak much English, some speak a lot, but whoever you stop will usually smile and do their absolute best to figure out what you are saying and how you need help.
Enjoy your time as a solo traveler in Bangkok, and see as much as you can possibly see. I promise you, you will love it.