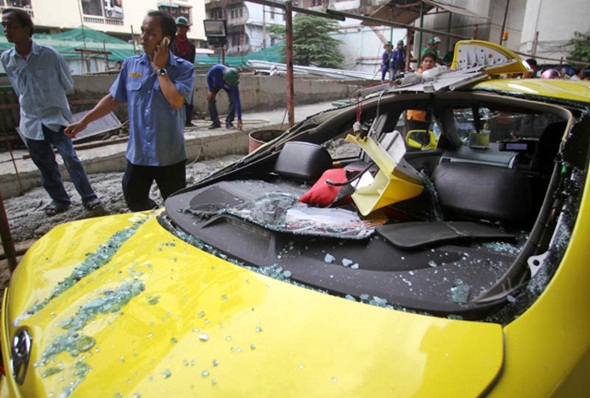 I have to say I wasn't surprised when I read one of the latest news stories in the Bangkok Post today. Apparently several steel beams from the BTS skytrain system fell on cars parked at a busy Bangkok intersection this morning. Luckily, nobody was killed or seriously injured.
The accident happened at the Tao Poon intersection of Pracharat Road when a number of steel beams being used by a BTS skytrain construction firm fell off the overhead construction site when wires holding them in place snapped. The steel beams then plummeted onto cars below.
They hit four cars and a truck causing serious damage to all of them. In fact, as you'll see from the rest of the photographs taken at the accident, it's amazing nobody was killed.
Then again, probably not a total shock here. A father of one of my former students in Thailand was a German engineer who worked with the BTS skytrain authorities for many months in an effort to get the system functioning like it would in Germany.
He always used to tell me, in some respects, it was an absolute lost cause as the Thai construction workers and their bosses usually didn't listen to what the German engineers told them and often ignored basic safety measures. As you can tell today, things like this are then what happens.