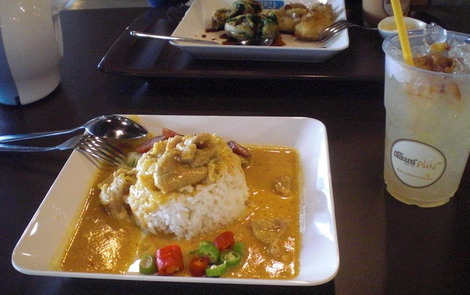 Terminal 21 food court still the best food court in Bangkok in 2018
Since Bangkok's Terminal 21 opened in October, 2011, it has been my favorite shopping mall. Not only because it has cool shops and is beautifully designed, with each floor representing a different city or country, but also because Terminal 21 has the best food court in Bangkok — at least I think so.
After all, when you can get some of the freshest and best cooked food court food in Bangkok for only 35 to 50 baht for a typical dish, and can sit by the huge picture windows and get a great view over the city, why would you eat anywhere else?
Especially because, since the Terminal 21 food court opened in 2011, the prices have not gone up much either.
Yes, you can still get a good meal and a drink for 50 to 60 baht. And you can't say that about many other places of a similar standard in Bangkok nowadays.
This week, the guy who runs Eat Sleep Bangkok, one of the YouTube channels I follow, visited the Terminal 21 food court to see if he still liked the place after doing an initial review on it two years ago.
And, as is usual with his excellent videos, he gives a good rundown on the prices, what the food looks like, how it is made and served, if he enjoyed eating it and if he feels the food at Terminal 21 food court is good value for money.
So is the food at Terminal 21 food court good value for money?
As Eat Sleep Bangkok says, when you only spend 136 baht (around $4.25) and you get three full meals which, while not gourmet they are tasty and edible, plus an all-fruit absolutely fresh mango smoothie, yep, it's pretty darned good.
Watch Eat Sleep Bangkok's video below if you want to find out more about the food court at the Terminal 21 mall and, of course, if you want decent food for a cheap price the next time you are in downtown Bangkok, head there. I know I always do. Then be sure to subscribe to Eat Sleep Bangkok's YouTube channel as well — he does a huge number of excellent restaurant reviews all over Bangkok that are well worth watching.
Finally, here is my original review of Terminal 21's 'Pier 21' food court from way back in 2011, and everything I said about the place still holds true six years later.
In fact, since then I have probably eaten there at least 100 times, and not once have I regretted it.