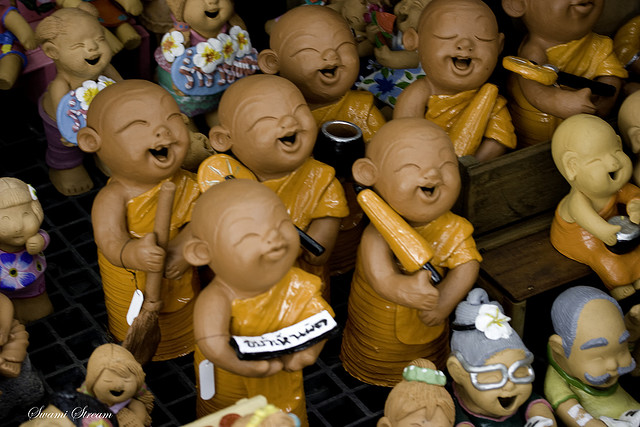 Garden ornaments are just one of the many things I love to buy in Thailand. You can pick up Thai garden ornaments at just about any market in the country, as well as at garden centers and DIY stores.  These laughing monk garden ornaments are typical of what you'll find here — brightly colored cartoon characters that look very cute in any garden. They sell for between 40 and 200 baht, depending on the size and where you buy them.
If you like something less brightly colored, you can also buy them in the solid clay that hasn't been painted. I have both types of ornament in the small garden on my balcony, and they really add to the beauty of it.
This photo of the laughing monk garden ornaments is so cute, we just had to add it to our Featured Photos section of the website.
It was photographed by Swami Stream, and uploaded onto Flickr with a Creative Commons license. Thanks Swami……exceptionally cool work.