Thailand Craft Beer Festival in Bangkok, 3rd August, 2013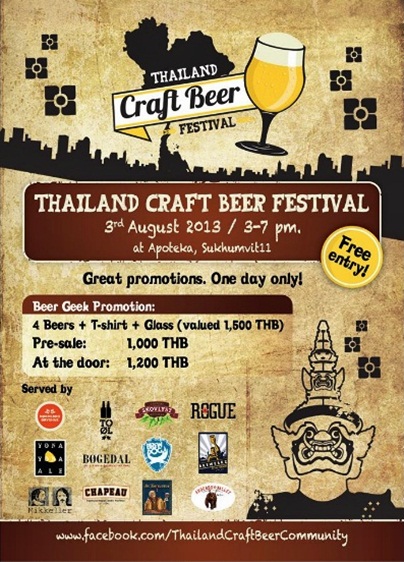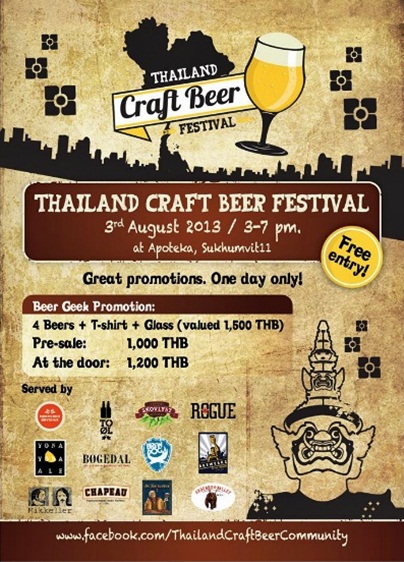 Craft beer fans will love the Thailand Craft Beer Festival
The Thailand Craft Beer Festival is going to be held in Bangkok on the 3rd August. It's a festival dedicated to independent craft beers and, according to the organizers, will have the biggest selection of craft beers ever seen in Thailand.
Entrance to the Thailand Craft Beer Festival is free (and then you pay for your beers, of course).
Beer Geek ticket and craft beers
Or, you can buy what they're calling a 'Beer Geek' ticket. They cost 1,000 baht if you pre-order them before the festival, or 1,200 baht if you pay at the door. But you do get 4 different craft beers to drink and a t-shirt from the event.
Craft beers at the Thailand Craft Beer Festival include Rogue's 'Dead Guy Ale', Anderson Valley's 'Summer Solstice', Yo-Ho's 'Tokyo Black' and Brewdog's 'Dead Pony Club'.
Where will the Thailand Craft Beer Festival be held?
This is such an unusual event for Bangkok, where craft beers are few and far between, that if you're a craft beer fan and in the city in August, you really should go.
The Thailand Craft Beer Festival will be held on August 3 at Apoteka Soi 11 in Bangkok from 3pm till late. You can find out more about the event at its Facebook page.
And, if you just love beer in general, don't miss visiting some of the best Irish and British pubs in Bangkok while you're in town. They serve awesome beer and great food too.