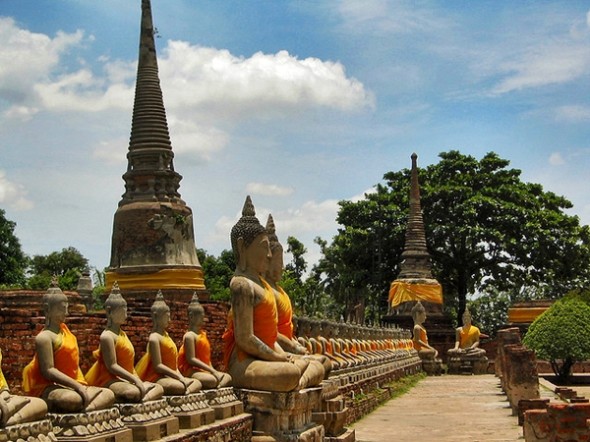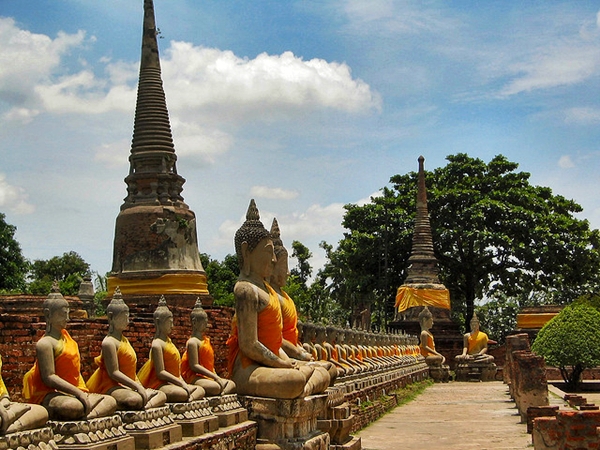 Although quite a large country, with a population of 67.5 million people, there are only five UNESCO World Heritage Sites in Thailand. Compare that to Spain's 42 and Great Britain's 28 and you know, right away, being able to see all of Thailand's World Heritage Sites is actually quite easy. With just five sites though, it's surprising how much each site has to offer. Ancient ruined temples, enormous tropical forests, wildlife sanctuaries and archaeological digs. If you'll be in Thailand in the next few years, don't miss seeing these five sites, before UNESCO adds several more.
Ayutthaya Historical Park – The first UNESCO World Heritage Site I ever visited in Thailand, I still love Ayutthaya the best.
Once Thailand's great capital city, and one of the world's largest, Ayutthaya was known for its golden temples, city canals where merchants sold their wares from small, brightly colored boats, libraries packed full of ancient literature, and stunning royal palace. But, in 1767, the city of Ayutthaya was burned to the ground by an invading Burmese army and all that's left today are the ruins of the royal palace and a few stone chedis and temple ruins.
Don't miss seeing Wat Yai Chaimongkhon, built to celebrate King Naresaun's victory in battle on the back of an elephant. Wat Phra Si Sanphet, is also a must see. Once a royal palace and later a monastery, it's ruins are lit every night to show off one of the most beautiful sights in Ayutthaya. But the most famous of all of Ayutthaya's sights, is the head of Buddha which is entangled in tree roots – and some say protected by the spirits of the tree .
Khao Yai National Park – The second UNESCO World Heritage Site I visited was the enormous Khao Yai National Park. Located just a couple of hours drive outside Bangkok, Khao Yai is the second largest park in Thailand, with an area of more than 2,000 square kilometers.
At Khao Yai, pay for a guide and trek through the jungle. If you're lucky, you'll see wild elephants, gibbons, wild pigs and Indian Sambar deer. Or, if you're the luckiest person on the planet, an Asiatic black bear.
Go kayaking or river rafting, or take the famous Khao Yai Night Safari and go up into the hills to see animals and birds in all their evening glory (but take a jacket as, surprisingly, it's actually quite cold).
Finally, if you can stay in Khao Yai till the early evening, just as it's going dark if you're in the right area (and park rangers can tell you where), you'll be witness to tens of thousands of bats that stream out of the caves where they've been sleeping all day and off for their night time hunt.
Ban Chiang – A Thailand World Heritage Sight since 1992, Ban Chiang in Udon Thani is still one of Thailand's best. It's a huge archaeological dig site, famous for its uncovered ancient red pottery, and four thousand year old grave sites complete with skeletons.
The original inhabitants of the Ban Chiang area are thought to have been farmers, but a large amount of beautiful bronze work was also unearthed, showing they might have been wealthier than first thought.
At Ban Chiang, you must see the Ban Chiang National Museum where many of the archaeological finds are now housed. Also, visit Wat Pho Si Nai, which is where some of the first burial sites were discovered and can still be viewed today. Finally, wander through the sleepy town of Ban Chiang, have a drink at a local shophouse and lunch at a street side stall. This is the real Thailand, and would still be interesting to see even if it wasn't a UNESCO World Heritage Site.
Sukhothai Historical Park – One of Thailand's other former capital cities, Sukhothai is even older than Ayutthaya as it was Thailand's first capital city.
One of the most stunning sites of ancient ruins in all of Thailand, Sukhothai Historical Park stretches for more than 70 kilometers and has royal palaces, old temples, canals, city walls, gates and moats.
In Sukhothai, The Royal Palace and Wat Mahathat are the first places to see. Not much of the palace is left, but you must see it simply because it was Thailand's first royal palace. Wat Mahathat has more to see, with around 200 chedis and stupas and some lovely lily ponds.
Wat Traphang Thong is on an island and is famous for a stone footprint supposedly made by Buddha himself. The prettiest place in Sukhothai though is Wat Sa Si. A small temple in the middle of a lake, surrounded by
floating lotus flowers, it's also the spot where much of Thailand's largest festival, Loy Krathong, takes place every November. Visit Sukhothai then if you can.
Thung Yai and Huai Kha Khaeng Wildlife Sanctuaries – One of the most beautiful spots in Thailand for protected wildlife, the Thung Yai and Huai Kha Khaeng Wildlife Sanctuaries are on the Thai-Myanmar border and, at 320,000 hectares, are one of the largest unspoiled forest tracts still left in the world.
A UNESCO World Heritage Sight since 1991, if you're a birdwatcher this is the place in Thailand to come. Make sure you also see the rare Sumatran Rhinoceros, wild Asian elephants, bears, tigers and leopards. For many of these species, this is the only area in Thailand they're still safe.
Hire a guide and take a trek through the rainforest. Much of it is still unexplored and has been the site of numerous finds of ancient stone artefacts. Just remember, if you find anything, you must turn it over to Thai authorities as it's illegal to take it out of the country with you.
Photo – Ayutthaya – copyright nelumba, Creative Commons License