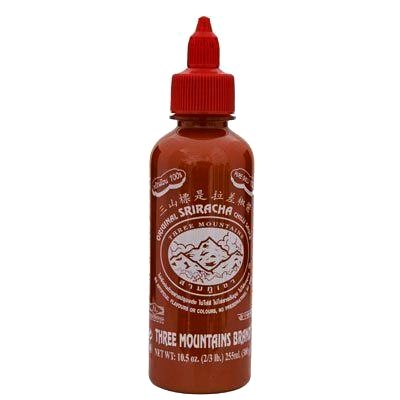 Which is the best sriracha sauce in Thailand? For me, Three Mountains cannot be beaten
When it comes to sriracha sauce in Thailand, there is a new entry in the market. An American brand that just about every vegetarian and vegan I know in the United States adds to their veggies to give them a kick. That brand of sriracha sauce — Huy Fon sriracha sauce — recently arrived in Thailand, and it is giving the Thai brands a run for their money. It also may soon become the best sriracha sauce in Thailand. Or will it?
No. Not really.
In fact, when you compare Huy Fon sriracha to most of the Thai brands, it really does fall far short. So short, in fact, you may begrudge buying an imported sriracha sauce in Thailand if you buy it, when authentic Thai sriracha sauce is already the real deal.
For one thing, Huy Fon is made with a chili that is not the same as the chilies used in a typical Thai sriracha. So, to me, it has more of a muddy taste than that zing that I am used to. Sure, Huy Fon is definitely hot but, if you want the real Thai-style sriracha, then this one definitely isn't it.
Plus, when you compare the whopping price of 175 baht for a bottle of Huy Fon in Thailand, as oppose to a Thai brand that usually comes in at the 25-40 baht range, it is really not worth spending four to seven times more for sriracha from America, especially as it does not taste anywhere near as good as most of the Thai brands already here.
So which is the best sriracha sauce in Thailand if it isn't Hoy Fun?
For me, there is no better one than Three Mountains. It sells for under 40 baht a bottle, and it comes in a bottle that looks similar to Huy Fon.
That, however, is where the similarity ends. Because Three Mountains is the authentic deal.
It has the right chilies, it has a lovely tangyness to it, as well as a hint of sweet, and it is spicy enough to make you want to add it to your eggs, soups, seafood and burgers. i even put it on half my rice dishes if I feel like some food with a kick.
So the next time you are looking for a good sriracha sauce in Thailand, grab Three Mountains before anything else. You will find it at most supermarkets in the kingdom.