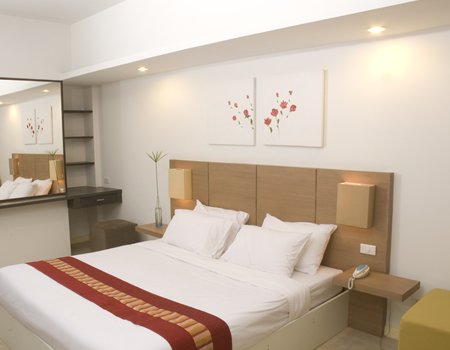 Pattaya is Thailand's top tourist destination for single men looking for a Thai girl. Full of bars, nightclubs and restaurants, as shady as Pattaya sometimes is, surprisingly it also has some absolutely lovely boutique hotels perfect for single or family travel. If you're planning a trip to Pattaya, whatever the reason, why not avoid the usual chain hotel fare and stay at one of the city's best boutique hotels. You won't be disappointed.
Nirvana Boutique Suites– Located right in the center of Jomtien Beach, Pattaya, Nirvana Boutique Suites is perfect if you like traditional Thai surroundings with thoroughly modern Thai hospitality.
At Nivana Boutique Suites, any one of the 30 suite rooms is sure to please. Each guest room features spacious en suite bath, beautifully decorate Thai-style living areas, a small kitchen that's fully-equipped with everything you need to make a meal, air conditioning, flat screen TV with satellite, mini bar and more.
The hotel has a gorgeous swimming pool, is Wi-Fi equipped throughout, and has a restaurant that's popular with locals and tourists alike. They even offer American/British breakfasts and international cuisine throughout the day.
Nirvana Boutique Suites is located just a couple of blocks away from Jomtien Beach and all the excitement that has to offer. It's still far enough away though that a quiet night's sleep is possible. whether you stay at Nirvana Boutique Suites for a couple of nights or a couple of weeks, this Pattaya boutique hotel is sure to please.
Intimate Hotel Pattaya byTim Boutique – For a low-key boutique hotel, Intimate Hotel Pattaya by Tim Boutique Hotel is the place to stay in Pattaya. Located only five minutes from Jomtien Beach, the hotel offers 82 guest rooms in various styles and sizes.
Each guest room offers en suite bath, Wi-Fi internet, TV with satellite, DVD player, mini bar, "Super King" size beds, a full kitchen, a living area and separate bedroom and some of the higher level rooms even have a Jacuzzi.
Intimate Hotel Pattaya by Tim Boutique is also kitted out for the long-term visitor. With its rooftop spa, excellent restaurant and even business conferencing facilities, you won't want to go home once you've been here.
There's also a coffee corner, a doctor on call and car rental services with a driver.
Nantra De Boutique – For a boutique hotel that's further out of Pattaya, Nantra De Boutique is perfect. Away from the loud music, nightclubs and bars, and wild party scene, Nantra De Boutique is wonderful if you're looking for a quiet vacation place.
At Nantra De Boutique, you'll find a gorgeous swimming pool, spa, massage services, 7-day detox programs, everything in fact for a truly healthy vacation. But, don't worry, you're only minutes away from Pattaya town and also within walking distance of various shopping and eating areas.
This boutique hotels features large guest rooms decorated in simple modern Thai style. Rooms are beautifully clean and well-taken care of and offer spacious en suite baths, flat screen TV with satellite, Wi-Fi internet, mini bar, refrigerator, VCR and Play Station rentals, and a separate living room and sleeping area.
The hotel has a pretty cafe, open from 7am to 10pm every day, where you can enjoy a quiet meal on the beautiful patio. Plus, if you're really looking for something relaxing, take one of the yoga or mediation classes. You'll feel like a new person.