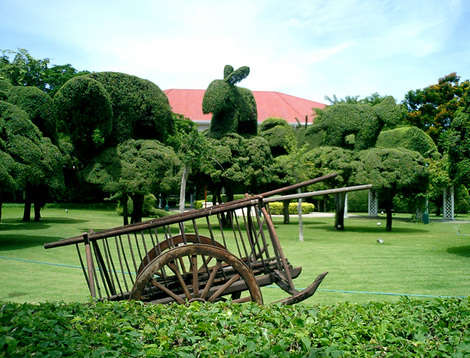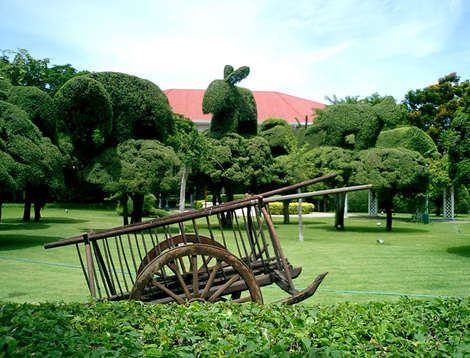 Hua Hin, a small town about three hours' drive south of Bangkok, is Thailand's most popular beach resort. Hundreds of thousands of international tourists stay here every year and even more Thais, who drive to  Hua Hin from all over the country. Hua Hin is the summer home of Thailand's King Bhumiphol Adulyadej, which is why Thais love it so much.
Hua Hin is also home to some of the country's finest beachside hotels. If you're planning a trip to Hua Hin, to enjoy the place the King loves so much, don't miss relaxing in these best Hua Hin beachside hotels.
Hotel Sofitel Centara Grand – One of the most luxurious hotels, not only in Hua Hin, but also in Thailand is the beachside Hotel Sofitel Centara Grand. This magnificent hotel is on the same property where the old Railway Hotel used to be. The owners of the Sofitel built this grand building, by using some of the original structure of the old hotel, giving it a colonial and very romantic feel to it.
The Sofitel has 207 rooms in the main building and 42 private villas that stretch down to the beachfront. The hotel has a luxury spa, four gorgeous swimming pools, several wonderful restaurants and it serves a Sunday brunch that's second to none. The Hotel Sofitel Centara Grand is also popular with golfers, who enjoy staying in luxury yet being close to the town's seven international golf courses.
Don't miss eating dinner at hotel's Palm Seafood Pavilion, as it serves more of the fresh seafood Hua Hin is famous for, than you'll find anywhere else in town. And, of course, after dinner enjoy a romantic walk on the beach. After all, there's not much point staying at a beachside resort hotel if you don't take advantage of it now, is there?
Check out the Hotel Sofitel Centara Grand's website for more information.
Baan Talay Dao Resort Hotel – Another luxury beachside resort, the Baan Talay Dao Resort Hotel, which means "Home Between The Sea and Stars", is designed around a century old Thai teak mansion.
Everything about Baan Talay Dao looks, feels and smells like traditional Thailand, from the superb Thai hospitality to the incredible food, stunning pool, exotic gardens and Thai spa. Add onto that Hua Hin's long, white sandy beach, right outside the back door, and leaving Thailand might just be the most difficult thing you ever have to do.
At Baan Talay Dao Resort Hotel, stay in one of the garden chalets, surrounded by lush vegetation, and relax in the most comfortable hotel room you've ever been in.
Swim in the hotel's infinity pool, go horseback riding on the beach, and eat dinner overlooking the beach with the smell of orchids and lemongrass.
For more information on Baan Talay Dao Resort Hotel and their stunning beachside property, their website has beautiful photographs.
Baan Bayan Beach Hotel – Just like the name suggests, this Hua Hin beachside boutique hotel couldn't be any closer to the ocean. This golden teak bungalow hotel overlooks a swimming pool and the beach and is thoroughly modern. Yet, its owners chose not to spoil its traditional Thai charm when developing the hotel, which is why it won a Historical Architectural Conservation Award a few years ago. It's really that lovely.
At the Baan Bayan Beach Hotel, its 21 rooms, suites and villas have courtyard, garden or ocean views. Each room is decorated in contemporary Thai style but with traditional touches. The hotel is also a popular place for weddings, as the happy couple can get married on the beach or in the hotel's lovely gardens, and then enjoy one of the best wedding receptions in Hua Hin.
Enjoy dinner at the Cafe Bayan, where you'll find authentic Thai cuisine as well as Western delights, then have a romantic cocktail at the Poolside Bar, before retiring to your villa for the night.
Find out more at the Baan Bayan Beach Hotel's website.