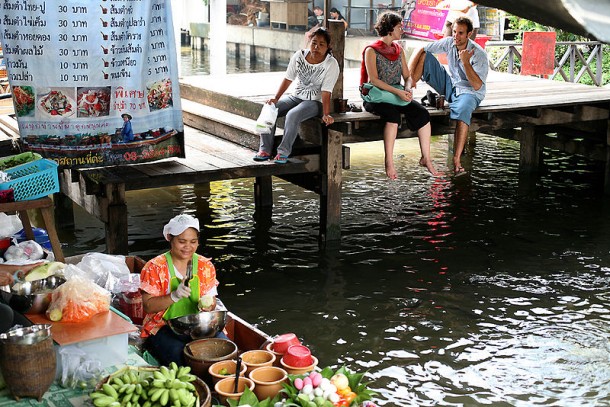 Authentic floating markets not aimed at tourists are rare in Bangkok, Thailand. Once a market that most Thai communities situated near a river had, nowadays with many floating markets closed years ago and others only there for the tourists, it's difficult to find the real deal any more.
That's why, if you want to get away from the beaten track, away from the floods of tourists, and off to see something authentically Thai, then Taling Chan Floating Market is the place to go. Just don't tell the other tourists about it.
Where is Taling Chan Floating Market? – What makes Taling Chan deliciously non-tourist and mostly only for Thais is its location. Across the river, "on the other side", as Thais sometimes say to Bangkok, Taling Chan is located in Chonburi Not on a typical tourist route, and a tad more difficult to get to, Taling Chan offers enough challenge for the visitor to Thailand to get to, while keeping away the floods of tourists who think everything Thai is "cute".
To get to Taling Chan (actually easier than it sounds), you've got two choices. Either take a taxi (the easiest way) or,if you're a little more adventurous, hop a number 79 bus outside Central World Plaza.
That will take you through Pratunam, onto Petchaburi Road, through the Ratchadamnoen area, across Pin Klao Bridge, along Charan Sanitwong Road and eventually to Chak Pra, where the Taling Chan floating market is located.
The trip takes about 30-45 minutes, depending on how bad Bangkok's traffic is, but as the market only opens on Saturdays and Sundays, it's not usually terrible.
Opening Times – Like I said, the Taling Chan Floating Market is only a weekend market. It begins operating at 8am and finishes around 5pm. Get there early though if you want to avoid the huge crowds.
What to Buy at Taling Chan Floating Market – While there are a few stalls selling things other than food, most of what Taling Chan sellers sell is food. Much of it prepared food, cooked while you wait, and soon ready for the eating.
You'll find food either at static outdoor stalls set up in the market area or sold by authentic river market sellers, who not only ply their wares from boats that float up and down the river, but also cook from
them.
Fancy Pad Thai, some spicy noodles topped with pork, or some chicken barbecued on a stick? It's all available, plus a lot more, from floating food sellers who, once you've ordered will cook your food right there and then, calmly sitting in their small boat while they cook in a wok or pot over a hot flame.
Once you have been handed your food and paid, where do you eat it? Again, two choices. Either sit at a low table on a floating pontoon (you sit on mats on the floor), or if you don't like the rocking motion as the river calmly flows around it, head to dry land and sit at one of the many static tables there.
The fun part about much of the eating is, you will be surrounded by other people doing it too. It's a great way to meet people, even if they are Thai and don't speak any English – pointing, smiling and making funny faces can still get you a long way.
Oh and don't forget dessert. You will see everything from fresh cut fruit, to homemade ice cream (try some in a hot dog bun, topped with sweet corn and then drizzled with condensed milk – far more delicious than it sounds), pancakes with various toppings, lots of types of jelly products, cookies, cakes and on and on. Thais love food and in their thousands of desserts, it shows.
Cost of Food at Taling Chan – This is where Taling Chan gets really good. Where you'd pay 100 baht or more for food items at one of Bangkok's tourist floating markets, at Taling Chan much of what you can buy for snacks is in the 10 baht (33 cent) realm and bowls of noodles, rice dishes, spicy salads etc are still only 25-40 baht (90 cents to $1.25).
Food is so cheap at Taling Chan in fact, you can try as many dishes as you can fit in your soon-to-be incredibly distended stomach.
Finally, once you have finished eating your fill, why not take one of the Canal Boat Tours. Dirt cheap, as they are mainly for Thais, you can float around Bangkok's canals in a long-tailed boat, stop off at the Orchard Farm or Snake Garden and still get back in time for yet more food before the market closes for the night.