On a recent trip to Chiang Mai, Thailand, Thai friends took me to a local coffee shop. Wawee Coffee, a Thai chain of coffee shops, has several branches in Chiang Mai but, the most beautiful by far is the branch next to the Four Seasons Hotel, a 20 minute drive outside downtown Chiang Mai.
This Wawee Coffee was where we sat and enjoyed delicious lattes and cheesecake and a stunningly beautiful coffee shop.
Location of Wawee Coffee – Situated in the beautiful Mae Rim Valley, Wawee Coffee is a 20 minute drive out of Chiang Mai main downtown area on the Mae Rim-Samoeng Old Road and close to the Four Seasons Hotel. Out in the country, you arrive at the coffee shop by driving down the pretty country road until you see Wawee Coffee on your left.
Set in lovely gardens and with an art gallery, Tita Gallery, right next door you will think you have died and arrived in paradise. Difficult to find, if you are not a Chiang Mai resident, though, I would suggest taking a taxi to ensure you get there.
The Atmosphere at Wawee Coffee – The coffee shop is an old Thai house that has been renovated into a two-storey cafe. Downstairs, as you walk through the front door, to your right you'll find the cafe's counter where not only can you order any coffee or tea drinks you'd like, but they also serve food and have a nice selection of cakes and desserts.
The ground floor is quite small but looks like an art gallery. Hardwood floors are mixed with white walls, enormous windows where you can look out into the garden, dark wood accents and a wide wooden staircase leading to the second floor. There's also a delightful mix of framed traditional Buddhist artwork and modern artwork all over the walls.
On the second floor, overlooking the downstairs area, again there's white walls, dark wood chairs and tables and a couple of comfy sofas. What makes the whole cafe just stunning though is the incredibly high ceiling, which reaches to a point and is crisscrossed with wooden beams and slats, and set off with a massive wooden lantern and strip lights. Just gorgeous.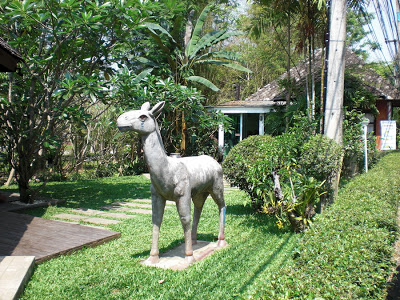 Sitting upstairs, looking out of the windows overlooking rice fields or down into the cafe garden, the atmosphere is peaceful and calm yet so cool and chic, it's hard to contain your excitement about how
incredible this cafe is. Even the bathroom is stunning.
Drinks and Cakes – Wawee Coffee shop also serves up perfect lattes. They arrive at your table, with foamy tops of milk that have flowers etched into the milk. The coffee itself is rich and full bodied, smells delightful and tastes even better. Don't miss ordering a cake, cheesecake or cookies either. We shared several slices of cheesecake, an apple pie and a slice of a soft Thai sugary cake that was sweet enough to feel satisfying but still light and airy.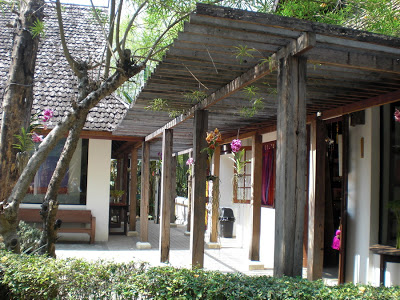 After Coffee at Wawee Coffee – Not only is Wawee Coffee itself the perfect coffee shop, it's also situated in large gardens that are perfect to sit in on a lovely sunny day. Right next to Wawee is the Tita Gallery, owned by the same people, and a superb gallery gift shop.
Here you wil find hundreds of handmade Thai handicrafts that are perfect for gifts. We bought silk scarves, a silk toy elephant, handmade paper greeting cards, handmade scented candles and a purse.
There are so many things to look at, as well as the artwork in the gallery, we spent more than an hour in the shop after two hours at Wawee Coffee before we finally left.
Wawee Coffee is simply the perfect Chiang Mai escape if you are looking for a few hours of relaxation, perfect coffee and cake and the loveliest coffee shop you will ever find.