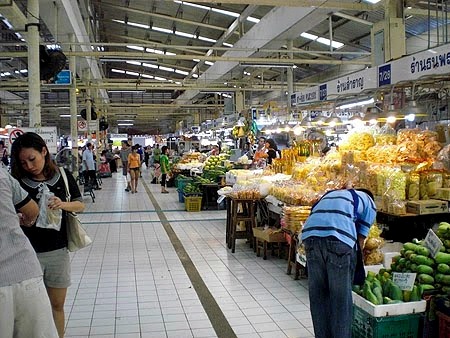 I'm constantly being asked by people what types of food you can buy at a Bangkok food market. The real question should be what types of food can you not buy at a Bangkok food market as, literally, you can get just about any type of meat, fish, shellfish, vegetable, fruit, nut and Thai snack you've ever heard of and thousands that you haven't.
Bangkok food markets come in all kinds, from small ones at the end of sois with just a few stalls to massive food markets like Suan Plu market or Khlong Toey market. Bangkok even has several organic food or farmers markets with Or Tor Kor (pronounced Aw Taw Kaw) being the largest as well as one of the world's most famous and best and others like Bon Marche with enormous food courts..
What all food markets in Bangkok have in common, however, is they are crammed to the roofs with some of the most delicious and freshest food not only in Thailand but in the world. Foods that, for a first-time visitor to a Thai market, will often seem strange.
To find out more about the types of food and fruits and vegetables you can buy at a Bangkok food market, do watch this awesome video from Hot Thai Kitchen aka a fabulous Thai chef called Pailin.
In it, she walks you around a typical Bangkok food market and gives you a wonderful idea of all the delicious foods you can buy there, as well as talks about Thai culture and traditional Thai dishes.