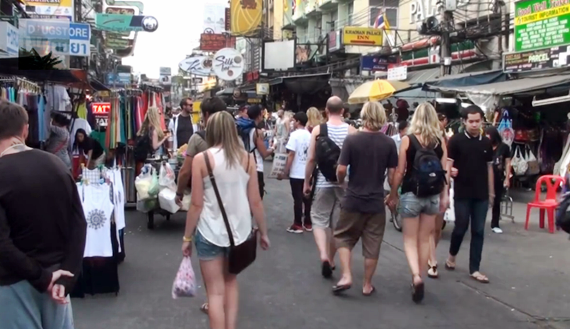 Let me start by saying I don't understand the attraction of Khao San Road, Bangkok's most famous street. I never have. I've lived in Bangkok for 10 years and, in all that time, probably been to Khao San Road less than 10 times. Why? I avoid it at all costs.
Of course, if you've never been to Bangkok and are planning a visit now, one of the questions you'll probably have is "What is Khao San Road in Bangkok like?"
Trashy, would be a good one word answer. 'Low-class' would be another.
Now, don't get me wrong, I don't look down on budget travelers or backpackers who travel all over the world and have some of the most amazing adventures. I simply don't understand why so many of them would want to not only visit, but actually hang out at, Khao San Road.
After all, why would you want to travel halfway across the world to Thailand and then hang out with a bunch of westerners, instead of Thais, and with some of the dodgiest and most dishonest westerners in the world, I might add.
Put it this way, Khao San Road is full of western tourists and western backpackers and with a far higher element of 'unsavory', 'dodgy', or downright 'scammy' people than just about anywhere else in Bangkok. In fact, if you ever get ripped-off, mugged or have money stolen from your wallet while in Bangkok, nine times out of ten it will be on Khao San Road.
Khao San Road is also jam-packed with street stalls selling some of the biggest heaps of junk you'll find anywhere in Thailand, and at far more expensive prices than just about anywhere in Bangkok. So, when I read a traveler's blog about how cheap the stalls are on Khao San Road, I really have to laugh.
That being said, I think any first-time visitor should see Khao San Road just for the experience. By 'see Khao San Road', I mean spend about an hour there. Wander around, have a snack, watch some of the people walk by and then…….leave.
Stay somewhere in Bangkok that's nicer, cleaner, and less trashy (unless you like bed bugs and cockroaches, that is) and interact with Thais instead of a bunch of westerners who, in most cases, don't know anymore about Thailand than you do. They just pretend they do.
Because, no matter how much you try to fool yourself, Khao San Road isn't Bangkok and it sure as heck isn't Thailand. And that means, if you leave Bangkok and you've spent most of your time on Khao San Road hanging around westerners, you haven't seen Bangkok at all.
Meanwhile, to get an idea of how many westerners there are on Khao San Road and how crowded and trashy it is, all you have to do is watch this Khao San Road video by one of my favorite videographers, Phrakanong.
His video, as always, is gorgeous but even Phrakanong can't make Khao San Road look any better than it is. It's just impossible.