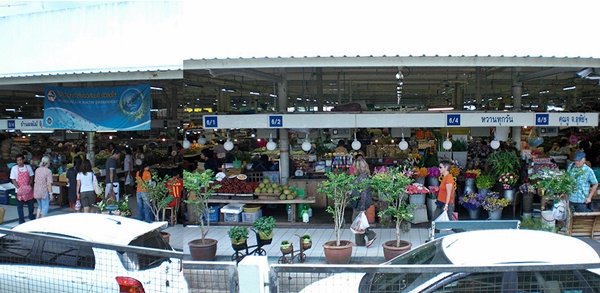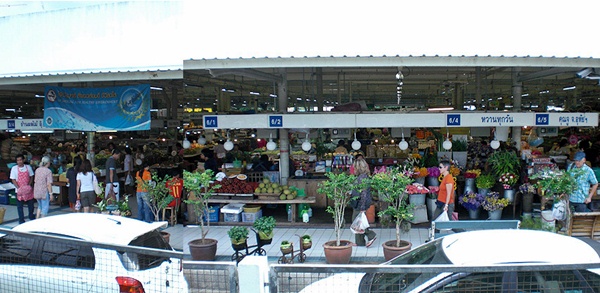 What to eat at Or Tor Kor market in Bangkok, Thailand?
If you are looking for the best fresh market in Bangkok, Thailand, Or Tor Kor market (also known as Aw Taw Kaw) is by far the one you should be heading to. After all, not only is it the best fresh market in Bangkok, it was also recently ranked as the 4th best fresh market in the world by CNNGo.
A fact that I can attest to as I have not only been to many fresh markets around the world, but I have lived two kilometers from Or Tor Kor market for the last 15 years and shop there several times a month.
It is not just shopping for vegetables, fruits, fish, seafood, meat, rice and snacks most people do at Or Tor Kor either. There are food court cooked food stalls as well where you can buy some of the best street food in Bangkok for only slightly more than other food courts.
And all in a place that is one of the cleanest markets in the city, and with some of the highest quality foods you will see anywhere.
So, if you are heading to Or Tor Kor markets some time soon, what should you eat there?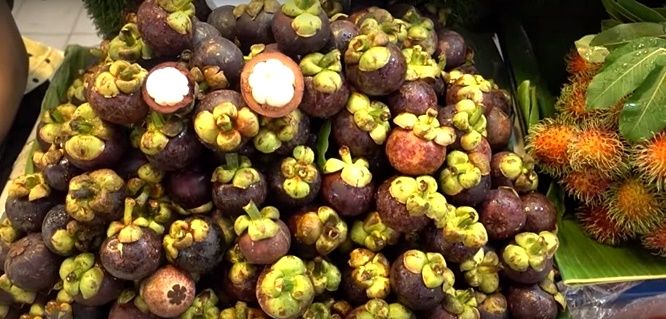 Vegetables, fruit and fish
I don't buy a huge amount of vegetables, fruit and fish at Or Tor Kor as prices there are about three times what they are at my local market just across the street from my house.
That being said, though, if I want the juiciest, freshest and most perfect looking vegetables, fruit and fish, then I go to Or Tor Kor without a second thought.
Vegetables available at Or Tor Kor cover the gamut from beans, cabbage, carrots, potatoes, tomatoes (yes, technically a fruit), Chinese celery, eggplant, bitter melon, green papaya, Chinese broccoli, wing beans, okra, banana flower, taro root and so much more. You can also pick up fresh herbs and spices like cilantro, mint, ginger, lemon grass, Thai basil and lemon basil. Just head to one of the vegetable stalls, grab a plastic basket and start putting things in it.
As for fruits at Or Tor Kor you will find pineapples, mangoes, mangosteen, watermelon, lychee, guava, rambutan, papaya and, of course, durian to name just a few. All will look like the most perfect fruit you have ever seen and, of course, you will pay for the privilege of buying it.
In other words, if you pay 100 baht for a kilo of mangosteen at a typical Thai market, you will pay around 250 baht at Or Tor Kor. It really is that much higher in price.
If you crave quality and superb taste over price, though, Or Tor Kor fruit really is what you should be buying.
As for the fish and accompanying seafood, again, it is some of the freshest you will find in Bangkok with everything from river prawns to cat fish,  barramundi, mackerel and beyond.  I especially recommend the giant prawns and the fresh crab. I have bought both at Or Tor Kor many times, and never had a bad one.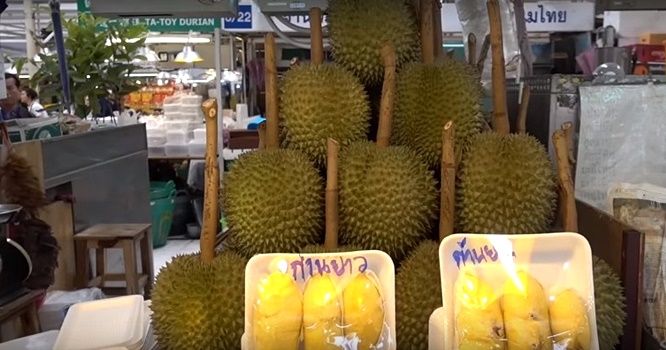 Food at the Or Tor Kor food court
While food court food is good all over Bangkok, it really is something special at Or Tor Kor. Prices are slightly higher than a typical food court stall but, honestly, the taste, the subtle flavors, the freshness are better here than most other Bangkok food courts (although I do especially love Pier 21 at Terminal 21 shopping mall).
Look for fried chicken here as it is amazing, as well as Som Tam (papaya salad), fried shrimp cakes, sausages with raw cabbage, Pad Thai (yes, the Thais do eat it and Or Tor Kor has some of the tastiest I've eaten in Bangkok), the large river prawns, and any of the Thai curry dishes.
To see what Or Tor Kor really looks like, and how amazing the food is, watch the video below from Strictly Dumpling. He was at Or Tor Kor just a few months ago and gives you a great view of the market as well as the food.
You will find Or Tor Kor at 101 Thanon Kampheng Phet, Chatuchak, Bangkok 10900. The market opens at 8am seven days a week and closes at 5:30pm.
Check out the Google map below the video to find your way there if you are driving, or just take the MRT underground train to Kampheng Phet Station and head out of Exit 3. Or Tor Kor is right at the top of the stairs.