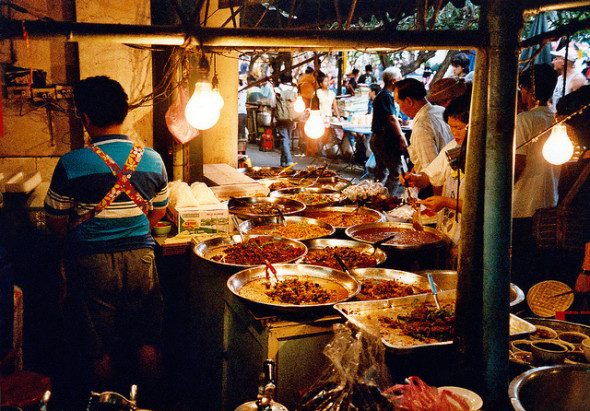 When you've just seen a late movie or had fun at a nightclub in Bangkok, Thailand and want a bite to eat, you may be surprised to find many of the city's restaurants stop serving at 9-10pm. Take heart though. There are late night restaurants and food stalls open up to midnight and well after all over Bangkok. You just have to know where to go
Took Lae Dee – The most famous late-night restaurant in Bangkok is Took Lae Dee. A chain of restaurants located in Food Land supermarkets, Took Lae Dae in Thai means "Cheap and Good". Every Took Lae Dee restaurant is open 24 hours a day, so you can get late night grub at 2am, 3am or even when dawn is coming up. With a menu including Thai dishes, burgers, sandwiches and American breakfasts, there's something for every taste.
There are several Took Lae Dee locations in Bangkok, with my favorite on Sukhumvit Soi 16. Grab a bite, then head into Food Land supermarket and do your grocery shopping as well.
Bug and Bee – Bug and Bee is a 4 storey cafe open 24 hours a day. With favorites like rad na crepes, massaman chicken, seafood crepe lasagna and spaghetti with tomato sauce, there's some real comfort food served here too. Don't miss the desserts – chocolate crepe with fruit and ice cream, or deep fried ice cream are particularly satisfying – and they do a darn good iced pomelo tea and hot lattes as well. Bug and Bee is comfortable, they offer free Wi-Fi and it's located right at the bottom of the steps of Sala Daeng BTS sky train station – so easy to get to.
The Londoner – If you're looking for a good old British pub with great beer and even better food, head to The Londoner on Sukhumvit Soi 33, in the basement of the UBC II building. Open until 1am, The Londoner offers pub food, (their menu is huge) at reasonable prices. The atmosphere is fun with big screen TVs showing sporting events, pool tables and a dart board and, several nights a week, they have live bands playing. Plus don't miss Wednesday nights, when drinks are 2 for 1 all night long.
Take a taxi after midnight or, until then, you can get off the sky train at the Phrom Phong station and walk a few hundred yards down Sukhumvit.
Sukhumvit Soi 38 – Probably the most famous place in Bangkok for late night eating is Sukhumvit Soi 38. Home to a whole slew of street stalls, Sukhumvit doesn't even start hopping until 11pm and many stalls are still open at 2am or 3am. Don't miss the noodles, Pad Thai or the chicken satay. Plus, they're famous for their mango and sticky rice (a famous Thai dessert), – you haven't eaten at Sukhumvit Soi 38 until you try it. Before midnight, get off at Thong Lo BTS sky train station. After midnight, take a taxi or tuk-tuk.
Every neighborhood has late night eateries. These four are some of Bangkok's most famous, not only because they're open late but because the food they serve is delicious and the atmosphere is cool.