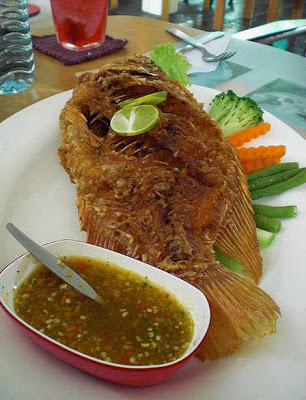 **Updated, February, 2019
If you love fresh seafood, you will be in seventh heaven in Bangkok, Thailand. Bangkok, Thailand's capital city, has some of the best seafood restaurants in the world and prices that will surprise even the most jaded traveler.
If you love seafood, but don't want to empty your wallet to eat it, then Bangkok is the place for the best seafood restaurants.
With fresh seafood direct from the Gulf of Thailand, most Bangkok seafood restaurants are extremely cheap, but oh so delicious.
Seafood Market – You have never seen anything like Seafood Market restaurant in Bangkok. With the tag, "If it swims we have it", Seafood Market has every type of seafood you have ever dreamed of and, with seating for over 1,000 people (really!).
The best way to experience Seafood Market fresh seafood is the traditional way. You choose your own seafood, take it to the counter to be weighed and pay for it, then send it to the kitchen to be cooked. Their five star chefs cook it any way you like, and it's served at your table looking scrumptious.
Once you've finished eating, you pay for the cooking charges and your drinks and off you can go, stuffed to your little heart's content.
Related: The seafood in Bangkok's Chinatown is cheap and so delicious!
You can also order A La Carte if you like but, in my experience, the Choose-Your-Own-Seafood is best. A lot more bang for your buck!
89 Sukhumvit, Soi 24, Bangkok. Seafood Market.
Somboon Seafood – With five locations around Bangkok, Somboon Seafood is one of Bangkok's most popular seafood restaurants and definitely one of the best. It's actually a Chinese restaurant specializing in seafood, but with curried crab, tom yam gung (spicy shrimp soup), fried fish, enormous prawns, large platters of mussels, cockles and squid and everything in between, Somboon Seafood really is a seafood lover's paradise.
Be warned though, the servings are enormous, so don't let your eyes get bigger than your belly!
My favorite branch is located at 12 Ratchadapisek Road, Bangkok – Just look for the big red crab sign. Somboon Seafood.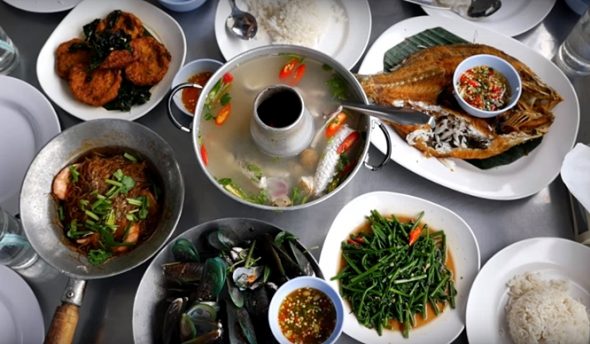 Royal Dragon – This unbelievable restaurant, the world's largest restaurant according to the Guinness Book of World Records (it seats more than 5,000 people), is truly spectacular. Red Dragon is a Chinese restaurant with music, dancing, shows and with your food being served on roller skates, flying through the air on invisible wires, or even walking on water.
Royal Dragon is a Chinese/Thai restaurant, but also serves Japanese food and European food, but they're world-famous for their world-class fresh seafood.
Related: How much is fresh seafood in Bangkok, Thailand? So cheap, you won't believe it
Here again, you can order A La Carte seafood, seafood by weight, or a Set Menu – but it's all delicious. Royal Dragon is a must see in Bangkok, not only for the amazing seafood but also for the incredible dinner shows you'll also see. Prices are inexpensive too!
Check out their website for a real idea of the experience at Royal Dragon. Bang-Na Trad Highway, Bangkok. Royal Dragon.
Baan Klang Nam – A Bangkok institution for almost 25 years, Baan Klang Nam has been voted one of Thailand's best restaurants by Tatler magazine. Located right on the Chao Praya River, at night Baan Klang Nam is gorgeous, all lit up with fairy lights.
You can sit either inside or out on the patio but the best thing about Baan Klang Nam is the food. Crab, fish, shrimp cake, sea bass, seaweed soup, – you're better ordering one of their set menus, that come with as many as eight different dishes and for around $100 feed 4-8 people.
Baan Klang Nam is at 288 Soi 14, Th Phra Ram III | Thanon Tok, Bangkok. Baan Klang Nam.
Whether you choose one of these best seafood restaurants in Bangkok or one of the thousands of others, you will find your seafood meal to be absolutely delicious. Now I'm used to the fresh seafood in Thailand, eating seafood back in the US is always a huge disappointment.