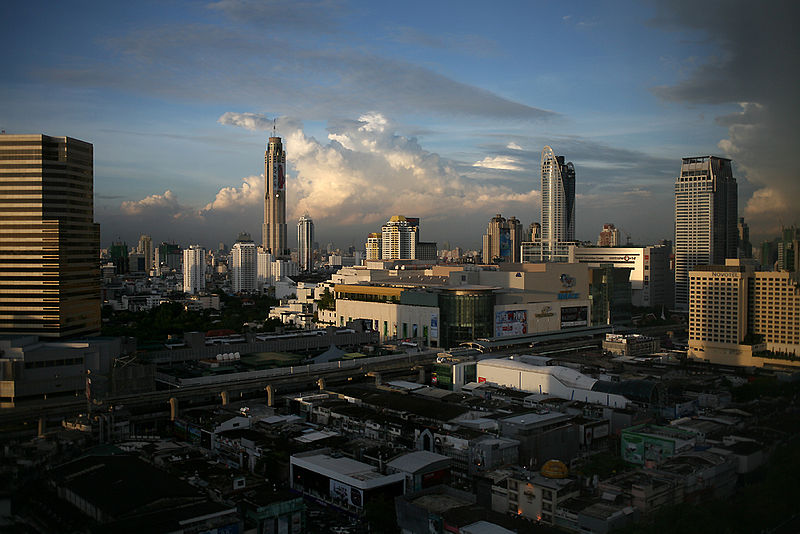 One of the most popular things to do on a Sunday in Bangkok is to go somewhere fabulous for Sunday Brunch. Thais love having Sunday brunch and the prettier place the better. All over Bangkok, restaurants and cafes now serve Sunday brunch, so if Sunday brunch is the best meal of the day for you, check out these Bangkok restaurants. There's sure to be one that will please.
Centara Grand – Overall, I would have to say the Centara Grand is the best brunch in Bangkok. At 1,400 baht ($40), it's incredibly expensive for the Thai wallet, but so worth it. The Centara Grand brunch is set up in two restaurants, 'The World' (as you can imagine, a mix of food from all over) and 'Ginger' (which has more of the Asian selections).
Pretty much everything you've ever had at a Sunday brunch is available here, from soups to carved meats, from an enormous cheese selection to scrumptious desserts.
You can get a buffet brunch over the week, but the Sunday Brunch is the best. The Centara Grand brunch is on the 24th Floor of the Central World Plaza mall and hotel complex in Bangkok. Reservations are required, and you might have to book a few weeks in advance as it's very popular.
Sukhothai Hotel Sunday Brunch – The Sukhothai Hotel is one of the most opulent in Bangkok and their Sunday brunch is pretty famous too. Served in the Colonnade Restaurant, you can hardly believe your eyes when you first arrive. Table after table of the most beautifully presented food you've ever seen. You'll drool over their chilled seafood table, with Maine lobster, enormous shrimp, oysters and even king crab.
The last time I was there, they had three kinds of pasta, four kinds of fish, prime rib, foie gras, the runniest brie I've ever seen, and lots of Thai dishes. Desserts were unbelievable with incredible chocolate cake, truffles, crepes made while you wait, and even a couple of British desserts.
But be warned, they only serve for three hours, from 12pm to 3pm, so make sure you get there on time, and book in advance. They are always fully booked weeks in advance as well.
The Sukhothai is in the central business district on South Sathorn Road in Bangkok. The Sukhothai Sunday Brunch is priced at around 1,900 baht per person (approximately $55) – very steep for Bangkok prices.
The Atrium at The Landmark Hotel – One of the most popular Sunday brunches in Bangkok is the one at The Atrium, primarily because the price is excellent value for money. At only 1,290 baht ($36) it's a good deal, especially as it includes all the wine, beer and soft drinks that you want.
I love The Atrium as it's very open and airy and overlooks the sky train, which I like to watch as I'm eating. The food is good, with much of the selections of the other hotels, and is especially good for those who like Japanese food, as there's a lot on offer.
The Landmark is also known for its delicious desserts, so The Atrium is no exception for Sunday brunch. The Atrium is in The Landmark Hotel, near Nana sky train station.
Kuppa – No huge buffet brunch tables here, but Kuppa is a lovely restaurant down a quiet soi just off Sukhumvit in Bangkok. Kuppa serves wonderful salads and sandwiches, foie gras, quiche, oven baked pizzas, and a very nice risotto. They also have excellent lattes and coffee.
Now, I love Kuppa because of the design. It's a converted warehouse area that, according to Bangkok legend, used to be the offices of the CIA in Thailand. Now, it has an upscale, hip feel to it and even has its own art gallery on the second floor.
Kuppa is popular with both Thais and Westerners and, although sometimes a bit pricey, the food is usually tasty and the atmosphere lovely. Kuppa is at 39 Sukhumvit, Soi 16.
One thing to remember about brunch in Bangkok though, it is much later than brunch in America. Thais, by nature, like to sleep late so a true brunch (around 10 to 11am) is not going to happen for most Thais. 12pm is when people are just getting there, but busy times will be 1pm to 2pm.
So, if you get to the restaurant early, you should have ample opportunity to really take advantage of the brunch buffet before the crowds arrive.