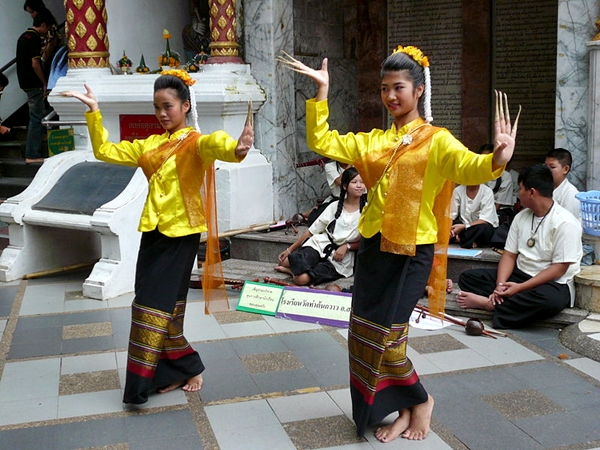 Chiang Mai, Thailand's most visited northern city, is one of the most romantic places in the country. Full of centuries old culture and tradition, historic Buddhist temples, saffron-robed monks, quaint markets and beautiful vistas, if you want to take your wife or girlfriend somewhere truly romantic, don't miss Chiang Mai. This ancient city has many romantic places but, if you're looking for somewhere a little more unusual, these three romantic locations will be sure to sweep her off her feet.
Early Morning at Wat Phrathat Doi Suthep – Chiang Mai's Mountain Top Temple – One of the most stunning places in Chiang Mai, Wat Phrathat Doi Suthep is an ancient Buddhist temple perched on the top of a mountain overlooking the city. Founded in the late 1300s, the temple is said to have been built when the King of Thailand placed a Buddha relic (thought to be Buddha's shoulder bone) on an elephant and let the elephant go in the jungle. The elephant walked for a long time, finally climbing the mountain of Doi Suthep where, when he reached the top, he died. This was seen as a sign that this is where a temple must be built honoring Buddha and it's been there ever since.
Nowadays, Wat Phrathat Doi Suthep is the most popular tourist destination in Chiang Mai. But, if you go early in the morning before the tourists arrive, when the sun has just risen, the mist is still clinging over the valley below, and saffron-robed monks glide around the temple grounds, it's one of the most romantic places in Chiang Mai.
Take your girlfriend to the temple patio overlooking an incredible lookout spot and wait. As the mist clears, the magnificence of Chiang Mai is revealed thousands of feet below. Then, taking a small hand held hammer, walk the length of the temple bells hitting each bell as you walk passed. The sound travels around the temple and away into the jungle, and the noise it makes is reputed to give you good luck for years to come.
There's nothing much more romantic than that.
Take Her Shopping to the Sunday Walking Street Market – When you talk about shopping at a Thailand market, you don't always think "romantic". That however is where Chiang Mai's Walking Street Market is different.
One of the largest outdoor night markets in Thailand, not only is the Sunday Walking Street Market an incredible place to shop, it's also located in one of the cities oldest and yet trendiest areas. Located in the Old Town area of Chiang Mai and surrounded by old city walls, the market is set up every Sunday afternoon in Chiang Mai around 4pm and continues until midnight. Laid out the full length of one of the city's main streets, which is blocked off to traffic, it also spreads out to several other side streets.
Thousands of stalls suddenly pop up selling everything from artwork to candy, handmade soap to jewelry, exotic Thai silks to shoes made by hand by Thailand's hill tribe population. You'll find photograph frames, silk pillow cases, kimonos, wind chimes, carved wooden boxes, handmade toys and dolls and on and on.
What makes the Sunday Walking Street Market so romantic though is the atmosphere. The hot air swirls around the market, filled with the scents of flowers, spices and Thailand's aromatic cuisine. Walking the length of the street, you pass jazz bars with music floating out through the door, outdoor cafes with live folk musicians, street stalls selling curries, rotis, skewered chicken with pineapple, pancakes and so much more.
Take your wife or girlfriend to the Sunday Walking Street Market and give her a gift of 3,000 baht (around $100). Not only will she eat and drink like a queen, she'll stagger home with so many packages and parcels (or you will, as you're being the romantic so you have to carry them, right?) she won't be able to fit everything in the taxi (the market really is that cheap).
You'll find the Sunday Walking Street Market at the entrance to Chiang Mai's famous Thapae Gate.
Dine at a Riverside Restaurant – One of the prettiest places to take a wife or girlfriend for a romantic meal in Chiang Mai is to one of the city's riverside restaurants.
When the sun goes down and it begins to go dark, head to The Riverside Restaurant, Brasserie or The Good View – riverside restaurants with good food (both Thai and International), live music and lovely romantic views out over the water.
The Riverside Restaurant has a small barge moored to the dock, where you can sit at a table, be serenaded with Thai music and eat Thai or Western food, whichever is to your taste. Brasserie River Terrace's gorgeous riverside garden and excellent steaks, pizzas,roast duck, Thai curries and other casual fare are famous in Chiang Mai and they're well known for their live musicians too. The Good View 's riverside wooden pavilion offers views out onto the water, a wonderful lively pub atmosphere (who says lively can't be romantic?) and some of the city's best fresh seafood. And yes, more live music.
For an unusual and exotic romantic date in Chiang Mai, Thailand you can't go wrong with any of these three wonderful places. Your wife or girlfriend will adore you for thinking of them and soon believe you're some kind of Romeo.
Photo copyright – the beautiful terrace at Doi Suthep – Dane Low, Creative Commons