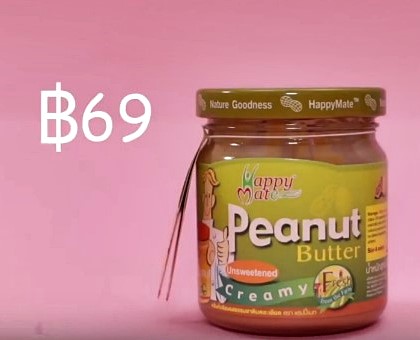 Which is the best tasting Thai peanut butter?
When I moved to Bangkok almost two decades ago, finding peanut butter was just about impossible. That is if you wanted to avoid the disgusting American peanut butter that is Jiffy and Skippy (both loaded with oil, sugar and chemicals — nope, thank you very much!)
In the last 10 years, however, more and more Thai brand peanut butters have appeared, as Thais in droves are deciding they like peanut butter  as well.
Finding which is the best peanut butter in Bangkok, however, can take a while and usually involves wading through jars of generally unsatisfying, too oily, too sweet or too dry peanut butter. Or just plain peanut butter that doesn't even remotely taste like peanuts at all.
Several years ago, however, I did find what I think is the best peanut butter in Bangkok. One which, while it has recently changed name, is still the creamiest, nuttiest and least oily of all the Thai peanut butters I have tried. In fact, six years later, it is still the only Thai peanut butter I buy.
We all agree on which is the best peanut butter in Thailand
So, I was interested today to come across this video from BK Magazine, as they actually did a full taste test of a variety of Thai peanut butters to see if they could find one that stood out above the rest. After all, if they found another peanut butter that tasted better than the one I currently buy, hey, I would give it a try.
But no, I was not surprised to see, after BK Magazine's taste testers waded through some of the same peanut butters in Bangkok I have tried in the past, they decided on the exact same peanut butter I did as being the best in all the land.
Yep, Happy Mate Peanut Butter (it was called Healthy Mate when I first reviewed it, and has recently changed names, but it is still the exact same thing).
As BK Magazine says about Happy Mate Peanut Butter "The Texture — satisfyingly chunky, soft and creamy" and "The Taste — fresh taste, has a hint of roasted flavor".
Yep and yep. And that is why I like it so much.
You can find Happy Mate Peanut Butter at Tops supermarket, at Villa, at Gourmet Market, Foodland and many of Bangkok's health food stores. At 69 baht, it's a steal.