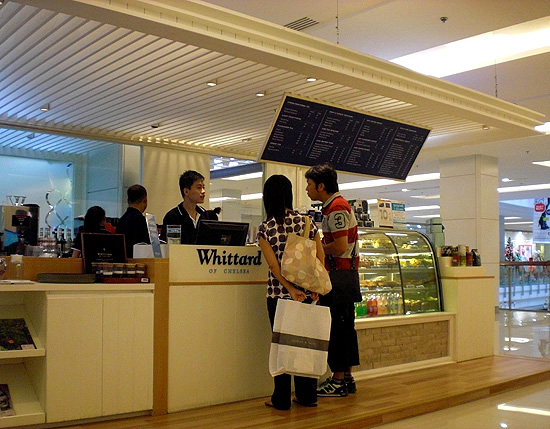 Whittard of Chelsea was originally a British company that was sold to an Icelandic buyer a couple of years ago. At the end of 2008, it was sold again to another British company, EPIC, after Iceland's banking crisis destroyed many Icelandic companies. At least one third of Whittard of Chelsea cafes were closed down but the ones in Bangkok are still alive and thriving. Whittard of Chelsea is a lovely place to have coffee, tea or dessert in Bangkok and here's why.
Whittard of Chelsea Serves Delicious Teas and Coffee Drinks – I'm particular about the lattes I drink. If it's burnt (like Starbucks coffee), I won't drink it. If it's not hot enough, I'll send it back. So, I was surprised when I tasted my first latte at Whittard of Chelsea, at their branch at Central World Plaza, to find it was delicious.
Creamy and smooth, with the perfect head of foam, Whittard really does make a perfect coffee. The only problem with it was, as pretty much normal in Bangkok, I had to send it back as it was lukewarm at best. It arrived back though absolutely boiling hot so, as long as I remember next time to order it "extra hot", it should be the perfect latte.
My friend had an Americano, which she states was "better than Starbucks" (praise indeed from her, as she's a Starbucks freak). She also liked that they served it with a small jug of hot milk as most other cafes serve it with a side of cold milk, thus spoiling the Americano taste.
Afterwards, we both had a cup of Earl Grey tea to cleanse our pallets before leaving and that, with a small splash of milk, was also the perfect cup of tea.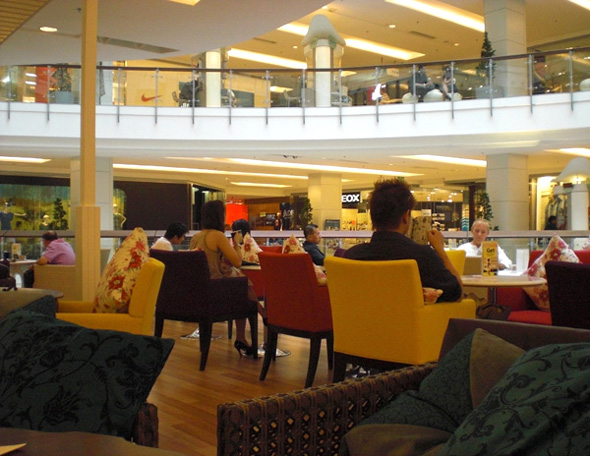 Variety of Tea and Coffee at Whittard of Chelsea – Whittard serves more than 30 different types of teas and 20 different types of coffee in their cafes in Bangkok. You can have any of the coffee blends ground to take home, or choose from several blends for your in-caf drinks. I bought Irish Cream ground coffee for use at home and it was absolutely wonderful.
Teas and coffees come in attractive packaging and, apparently in England, you can also buy Whittard teas and coffees at Tesco and Sainsbury supermarkets.
Cakes and Desserts at Whittard of Chelsea are Scrumptious – The cakes and desserts at Whittard of Chelsea are absolutely delicious. Be warned, they are quite expensive for Bangkok at 125 baht ($4.10) for a slice of cheesecake, but for me it was worth it. I had a piece of blueberry cheesecake and my friend had a slice of pecan cheesecake.
The blueberry cheesecake was creamy, thick and fresh and smothered in blueberries and my friend said the same about the pecan cheesecake (I've never seen that many pecans piled on a piece of cheesecake before either). So, if you don't mind spending a fair amount on dessert, do give a Whittard cheesecake or cake a try. I doubt you'll be disappointed.
Whittard of Chelsea Products are Excellent – Whittard also produces its own line of products – cups, mugs, coffee makers, espresso brewing machines, china tea cups, tins of tea and more.  The designs of coffee mugs are unusual with a distinct British flair and the travel mugs are cool.
Prices too weren't too expensive with coffee mugs running from 300 to 400 baht ($8 to $10.50), not too bad for an exclusive designed mug.
Designs of Whittard of Chelsea Cafes – The designs of Whittard cafes in Bangkok are beautiful with overstuffed sofas, rich colors, and all against a background of hardwood floors and off-white paintwork. Very British and very pretty.
Whittard of Chelsea has locations in Bangkok, Thailand at Central World Plaza (a lovely cafe right in the middle of the mall on a balcony overlooking the mall), Siam Paragon (ground floor) and Esplanade Mall, a small one at Villa Supermarket at Ari sky train station, and one at Suvarnabhumi Airport. I reccomend the cafe at Suvarnabhumi if you want a good latte and croissant before you take a morning flight.